Underwatertimes.com News Service - August 8, 2011 23:30 EST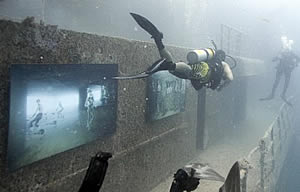 Divers examine art photos created by Austrian photographer Andreas Franke along the deck of Gen. Hoyt S. Vandenberg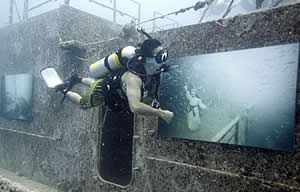 A diver examines art photos created by Austrian photographer Andreas Franke as he swims along the deck of Gen. Hoyt S. Vandenberg
KEY WEST, Florida --
An underwater art exhibit has debuted on a former Air Force missile-tracking ship sunk in the Florida Keys National Marine Sanctuary seven miles south of Key West to become an artificial reef.
Austrian art photographer Andreas Franke is exhibiting a dozen digitally composited images on the Gen. Hoyt S. Vandenberg, which was scuttled in May 2009. The 4-by-5-foot photographs stretch along some 200 linear feet of the starboard side of the Vandenberg's weather deck, 93 feet below the surface of the Atlantic Ocean.
Franke photographed the wreck last year. He digitally added other elements to the images to create the whimsical artwork.
One picture depicts a girl wielding a butterfly net trying to capture fish shown in an original underwater image of the wreck. In another, kick boxers seem to compete adjacent to one of Vandenberg's iconic tracking dishes.
The 20-square-foot images are encased in plexiglass and mounted in stainless steel frames sealed with silicone.
Joe Weatherby, the Key West resident who conceived and spearheaded the sinking of the Vandenberg, said he hopes the exhibition can remain in place through the end of the year.
The 523-foot-long Vandenberg required 13 years of preparation and work before it was scuttled in 140 feet of water. But the ship is so large that the top of its superstructure is only 40 feet below the ocean surface. It is the second-largest vessel in the world ever purposely sunk to become an artificial reef.