UnderwaterTimes.com: Unmatched Coverage, Global Reach, Targeted Audience
UnderwaterTimes is a news source like no other. With its unparalleled breadth of coverage, global reach, and compelling, quirky editorial style, UnderwaterTimes.com has quietly become the one place people turn to for news of the world underwater.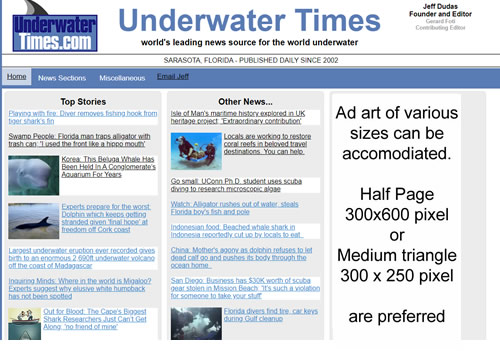 As such, UnderwaterTimes has also become an ideal venue for advertisers to feature their products and services tailored to the world in and around water (and beyond).
UnderwaterTimes.com welcomes sponsorships. Many have taken advantage of a sponsorship placement on the highly visible homepage. News Sections can also host sponsorships.
Sign up and sponsorships are quick and easy to start, and often can be posted withini a day's time.
Underwatertimes can also offer display ads with your ad art. Ads can be placed on the front page, or any of the news archive sections (Scuba, Sharks, Oceans, Cetaceans, Crocs/Gators, Underwater Animals, Fish).
Sponsorship rates are very reasonable and designed to fit your budget. Terms are usually for 6 months or a year, and payments / invoicing is through PayPal.
Email JeffDudas@underwatertimes.com for more information.