Underwatertimes.com News Service - October 25, 2006 17:44 EST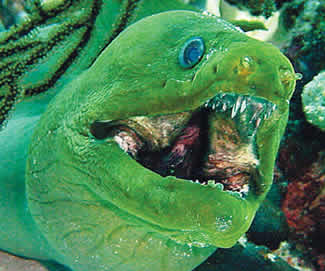 Green Moray Eel. photo courtesy Ellen Muller
GEORGE TOWN, Cayman Islands --
A dive guide appears to be the latest victim of a decision by watersports operators to ignore clear warnings from the Department of Environment (DoE) about feeding moray eels at Stingray City.
According to an eyewitness report by Dale Sherriff, a tourist from the UK, the attack took place on 11 October when a trip operated by Captain Marvin's made a stop so the guide and boat captain, reportedly known simply as 'Chester', could show the divers a moray eel.
Before entering the water he warned the customers that if the eel came towards them, they were to cross their arms and clench their fists. In the water, Chester played with the eel, letting it slide over his arms and round his body. The eel then disappeared into a hole under the coral but re-emerged and was seen following Chester who was now swimming with Mr Sherriff's two young daughters.
Mr Sherrif says that what happened next is unclear.
"I was under the water and when I came up, there was a major panic. Everyone was swimming like hell back to the boat. I hadn't a clue what was happening and thought there must be a shark, it was like the beach scene in Jaws. I have never been so scared in my life. When I reached the boat, Chester was being pushed up the ladder, his arm bleeding badly. He then collapsed."
Mr Sherriff says that Chester, despite his injuries, got the two girls back to the boat safely.
According to Mr Sherriff the problem now was getting help for Chester who was crewing the boat alone and his injuries were, at this stage, incapacitating.
"As an ex-midwife, I was the most medically qualified person on the boat. Someone came over from another tour boat and we were told that someone from Capt Marvin's was going to come out and pick the guide up. However, we got a new man on board to start the boat and made out to meet Capt Marvin's men. What was needed was a Coast guard in a fast boat and a paramedic."
In his email, Mr Sherriff said that eventually, a speedboat turned up.
"By now Chester was not in great shape, the crew did not have a clue as to how to deal with him. He was roughly handed over and, despite my protests, the crew didn't even bother about supporting his arm."
Despite the incident Mr Sherriff says the tour continued. "On reflection, what are watersports companies doing bringing tourists to this place? Had I known about this eel, there would be no way I would have swum here, let alone taken my children. This thing was literally inches from them. Also alarming, was the complete absence of medical assistance," he concluded.
The DoE confirmed that they are aware of the incident and have repeated the warning given in May 2005 after 11-year-old Justin Weber suffered severe arm injuries during an attack by a moray eel at Stingray City.
At the time Gina Petrie, Director of the Department of Environment (DOE) said: "The DOE is aware of the incident and has had a long-standing position on not feeding animals that has largely gone unheeded by watersports operators. People are put directly in harm's way when dangerous animals are fed. In any terrestrial park anywhere in the world, feeding of the animals is not allowed. However, in a marine environment, people tend to relax this rule."
Noting the fact that people are being allowed to feed what scientists describe as "a dangerous predator and opportunistic omnivore," Ms Petrie said, "The DoE's warning against feeding is not only because of the danger to humans, but also because this practice has ecological consequences as well."
She concluded at the time that if watersports operators and the Cayman Islands Tourism Association, CITA, continue to ignore this warning then people will have to take responsibility for their actions.