Underwatertimes.com News Service - October 8, 2006 22:15 EST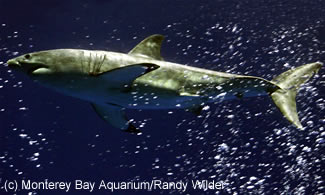 The new great white shark put on exhibit at the Monterey Bay Aquarium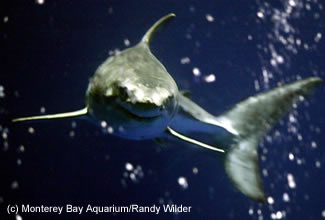 A smile from the new shark?
MONTEREY, California --
The Monterey Bay Aquarium is again sparking debate over displaying captive Great White sharks. A juvenile male is the second shark in two years to be kept in captivity at the aquarium, and some are skeptical he will live.
Two years ago a female Great White adapted to the captive environment at the Monterey Bay Aquarium for over six months. It was the first time any shark in the world survived in captivity for that long. The juvenile male has been at the aquarium for five weeks now and is drawing massive crowds.
KCBS reporter Tim Ryan interviewed the aquarium spokesman, Ken Peterson. He maintains that having a Great White in captivity is ultimately beneficial to the species.
"Tens to hundreds of millions of sharks being killed in the wild is a serious conservation problem for the oceans that needs to be addressed. One of the effective vehicles we as a public aquarium have for reaching people, getting them to care about these issues and take action, is to introduce them to live animals."
Not all shark experts accept this line of reasoning. Sean Van Sommeran with the Pelagic Shark Research Foundation in Santa Cruz said too many sharks die in captivity before one manages to survive.
"The aquarium's exhibit has pretty much pushed the envelope and been far more successful than previous efforts. We do cling to that policy that certain species of fish don't do well in captivity."
The young Great White comes in at about 104 pounds and is 5'8" long. He is currently in a 1.2 million gallon tank, and according to Peterson, is swimming well and getting along with the other exhibit animals.
The new exhibit drew the largest single day crowd in the aquarium's more than 22-year history, with almost 17,000 visitors.