Underwatertimes.com News Service - September 27, 2008 16:32 EST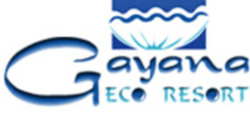 The Gayana Eco Resort has banned shark fin soup from its menus
KOTA KINABALU, Malaysia --
At least one resort here has started the ball rolling to prevent sharks being cruelly mutilated for their prized fins at sea.
In doing so, it has become the first tourism establishment in the State - and perhaps the nation - to implement a previous Federal Minister's call (Science, Technology and Environment Minster Datuk Azmi Khaled) to government agencies and departments to stop serving shark's fin soup at functions.
Gayana Eco Resort will refrain from serving shark fin soup at its recently-refurbished Alu Alu Seafood Restaurant.
"Killing sharks and throwing them away just for their fins is a despicable and shameful practice that must be stopped," said Nilakrisna James, spokesperson and PR Consultant for the resort.
Internationally renowned marine scientist and zoologist Dr Mabel Manjaji Matsumoto, in a dinner talk on "Sharks and Rays of Sabah" at the resort, Thursday, said some 100 million sharks are killed yearly for their fins.
Of the estimated 2,000 species of sharks and rays worldwide, it is believed that in Sabah alone there are 36 species of sharks and 42 species of stingray, with some of the latest species found in the Kinabatangan region.
The talk, which was organized by Gayana Eco Resort's Marine Ecology Research Centre (MERC) to create awareness of the marine biodiversity in Sabah and the threats to our unique and endangered marine life.
Meanwhile, Nilakrisna, who is also the Organising Chairman of Sabah Law Association's Sub-committee on Environment and Climate Change, suggested that the Borneo Marine Research Institute (BMRI) at Universiti Malaysia Sabah (UMS) give the public more insight into threats to Sabah's marine life through the media.
"The BMRI at UMS should also be allowed to participate more proactively in the Kinabatangan Corridor of Life committee under the Ministry of Tourism, Culture and Environment. We are aware of threats to terrestrial life forms as a result of development and plantations but more must be known of the threats to the aquatic life forms which for the most part are just as rare and endangered," she said.
She hoped the Education Department would also hold such talks for school children "as habits such as consumption of shark's fins should be stopped early in life."
"The children who study in Sabah must understand and appreciate the gifts and unique biodiversity that we have here.
"The fact is we have at our doorstep the most incredible educational experience that you won't get anywhere else on earth. That puts us on par with developed nations and we should capitalize on this opportunity and be proud of it."
Director of MERC, Alvin Wong, was satisfied with the good turn out, saying that in the past one would rarely see more than 20 persons at such talks. "With over 50 environmental enthusiasts at this talk, I am optimistic that the function MERC plays in this society will eventually bear fruit.
Propagation and restoration of life are at the heart of what we do at MERC but to achieve full awareness and success, there is a time factor in building up momentum," he said.
Set on its mission in achieving eco-certification, Gayana Eco Resort was recently declared by the Mayor as a "litter free resort" and announced its vision to be Asia's No.1 Luxury Eco Resort.