Underwatertimes.com News Service - April 18, 2011 17:21 EST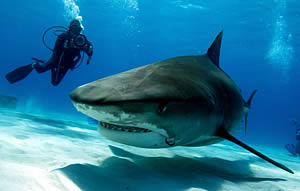 Guy Harvey filming a tiger shark.
NEWPORT BEACH, California --
International marine and wildlife conservation artists Guy Harvey and Wyland join with renown SCUBA diver and wildlife photographer Jim Abernathy to showcase This is Your Ocean: Sharks, as the Eco Spotlight feature at the Newport Beach Film Festival, scheduled for April 28-May 5th.
Director George C. Schellenger takes the audience into the world of sharks through the eyes of Wyland, Harvey and Abernathy in the crystal clear waters of the Bahamas, one of the last shark sanctuaries on earth. The 44-minute documentary depicts sharks in their environment capturing both adventure and passion and providing the audience with face-to-face realism never shown before on film. To view the trailer of the documentary, go to http://www.themoviepool.com/audience/newsroom/item/956-wyland-and-guy-harvey -documentary-is-essence-of-filmmaking.html.
Dr. Harvey, founder of the Guy Harvey Research Institute at Nova Southeastern University and the internationally regarded Guy Harvey Ocean Foundation (GHOF), recently joined the growing ranks of individuals and organizations calling for strict regulations to ban the commercial fishing of all sharks in The Bahamas. Scientists with the International Union for Conservation of Nature have estimated that 30 percent of shark and ray species around the world are threatened or near threatened with extinction. The loss of these animals could cause irreversible damage to the ocean's ecosystem and result in the loss of hundreds of millions of dollars in the tourist trade.
In related shark conservation activity, Dr. Harvey has offered his artistic talent and foundation sponsorship funding in support of the upcoming Circle Hook Symposium scheduled for May 4-6 in Miami. The symposium, hosted by the National Oceanic and Atmospheric Administration (NOAA), is an international gathering of scientists, resource managers and constituents convening to discuss the performance and use of circle hooks in commercial, recreational and artisanal fisheries. While it is legal to use a J-hook to fish for sharks, experts such as Dr. Harvey recommend using a circle hook, where the barb points inward and not outward.
Laishley State Park in Punta Gorda, Florida is hosting the 2011 'Guy Harvey Ultimate Shark Challenge Tournament' on May 13-15th, which has become a model for the next-generation of shark catch and release tournaments with the mandatory use of circle hooks. Scientists from Mote Marine Lab in Sarasota will be on the water working with the Tournament fishermen, tagging qualifying sharks and assisting with the release.
About Guy Harvey
Guy Harvey is a world-renowned as a painter, underwater photographer, diver and marine biologist. Harvey, with permission from the Ernest Hemmingway family, made a name for himself by debuting two sets of pen and ink drawings, including a collection titled Santiago's Finest Hour, inspired by the author's book, The Old Man & the Sea. Since then, Harvey expanded beyond pen and ink to develop an artistic style of painting and photography that captivates fish and ocean lovers. He is a member of the prestigious Society of Animal Artists.
Guy's books are collectors' items, including his new 'Panama Paradise' book featuring pictures and illustrations of the world famous Tropic Star Lodge in Panama. Among his many other accomplishments, Harvey's Portraits from the Deep book was made into a television fishing series currently airing on Fox Florida TV Network. The series received a Telly Award.
Much of Harvey's distinguished work is on a grand scale, having created full-wall murals at Nova Southeastern University in Ft. Lauderdale, FL, the Hollywood-Ft. Lauderdale International Airport and Owen Roberts International Airport in Grand Cayman. Harvey is the recipient Panama's highest recognition, The Vasco Nuñez de Balboa Grand Cross and Silver Star, presented to those who make a positive impact in preserving Panama's ocean resources. Solomon Shamah, Panama's Minister of Tourism, presented the medal to Dr. Harvey. For additional information on Guy Harvey, visit www.guyharvey.com