Underwatertimes.com News Service - July 23, 2007 17:59 EST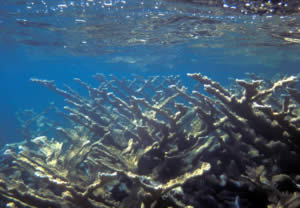 The reauthorization of the Coral Reef Conservation Act is being called for by conservationists and scientists
WASHINGTON, D.C. --
Responding to coral reef decline around the world, thirty-three non-governmental organizations and 180 coral reef scientists issued communications today calling on Congress to reauthorize the Coral Reef Conservation Act of 2000. The communications ask the House and Senate to adopt the strongest possible language for the protection and conservation of coral reef ecosystems.
Coral legislation is pending in both houses. The Coral Reef Conservation Amendments Act of 2007 (HR 1205), sponsored by Eni Faleomavaega (Delegate-American Samoa), was approved June 28 by the House Natural Resources Committee, and now awaits a hearing in the House Science and Technology Committee. In the Senate, Senator Daniel Inouye (D-HI) has introduced similar legislation (S. 1580). Senator Inouye also introduced S. 1583, the Bush Administration's version of the bill.
The Coral Reef Conservation Act authorizes the Secretary of Commerce, through the NOAA administrator, to issue grants for coral reef conservation activities. Funds are awarded under six program categories: State and Territory Coral Reef Management; State and Territory Coral Reef Ecosystem Monitoring; Coral Reef Ecosystem Research; Projects to Improve or Amend Coral Reef Fishery Management Plans; General Coral Reef Conservation; and International Coral Reef Conservation.
Thirty-three conservation organizations signed identical letters to the House and Senate. Signers included: Marine Conservation Biology Institute; Coastal States Organization; The Nature Conservancy; Surfrider Foundation; Greenpeace; EarthEcho International; The Ocean Conservancy; Climate Institute; National Marine Sanctuary Foundation; NAUI Worldwide; Oceana; The Snorkel Bob Foundation; Ocean Champions; World Wildlife Fund; Reef Check Foundation, Blue Ocean Institute; Hawaii Audubon Society; International Society for Reef Studies; Malama Maunalua; Gulf Restoration Network; Conservation Council for Hawai'i; The Tiffany & Co. Foundation; Blue Frontier Campaign; Pacific Marine Conservation Council; Living Oceans Foundation; Cry of the Water; Wider Caribbean Sea Turtle Conservation Network (WIDECAST); The Interfaith Council for the Protection of Animals and Nature; Caribbean Conservation Corporation; George Institute for Biodiversity and Sustainability; Global Coral Reef Alliance; The Coral Reef Alliance; and the Marine Resources Council of East Florida.
Scientists from thirty-three states and territories signed a Scientists' Statement. They include natural and social scientists who study coral reef ecosystems and the coastal and island communities which depend on them.
Both communications recognize the declining health of coral reef ecosystems and express alarm with the threats coral reefs face. The major threats include sediment and pollutants in coastal runoff, overfishing and excessive harvest of reef-dwelling species, vessel groundings, invasive species, and coral bleaching and disease caused by climate change.
The scientists and conservationists also commend the conservation efforts of the National Oceanic and Atmospheric Administration's (NOAA) Coral Reef Conservation Program and the U.S. Coral Reef Task Force and the proactive steps taken by Congress and the Administration to date to reauthorize the Coral Reef Conservation Act.
Provisions supported by NGOs and coral reef scientists include the following:
· increase the status of protection for corals in all U.S. waters; · increase funding for coral reef conservation projects, the letters ask for an authorization of $52 million annually for NOAA and $10.5 million for the Department of the Interior to protect these extraordinary habitats; · enable NOAA to effectively respond to vessel grounding incidents, such as those that occur outside of marine protected areas; · provide liability provisions that hold parties responsible for damage to coral reefs; · make the U.S. Coral Reef Task Force a permanent body and authorize additional government agencies to play a wider role in coral reef conservation; · increase coordination between federal agencies, States, Territories and Commonwealths; and · increase emphasis on adaptive management, including rigorous and continuous monitoring, assessment, and reporting of the effects and effectiveness of federally granted activities.
"The major threats to coral reefs are well documented," said Steven Lutz , Ocean Policy Analyst for the Marine Conservation Biology Institute. "What we need now is the will to address these threats. Congress has a fantastic opportunity to protect and conserve these valuable and venerable marine ecosystems through this important legislation."
"The reauthorization of the Coral Reef Conservation Act is of great importance to the states and territories" according to Kacky Andrews, Executive Director, Coastal States Organization, Washington , D.C. "The programs authorized in the Act provide valuable funding for on the ground projects that help managers fight the multitude of stresses facing the nation's corals"
"Coral reef ecosystems are critical living resources for a number of states and territories", said Andrew Baker, Assistant Professor of Marine Biology at the University of Miami . "Without urgent protection from the increasing threats they face, we risk irreversibly losing the benefits they provide to society and the biosphere as a whole. Federal initiatives to reverse the decline of these ecosystems must be continued."