Underwatertimes.com News Service - February 15, 2010 20:53 EST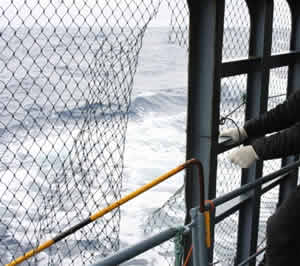 Ady Gil skipper Pete Bethune points how he used a knife to rip the protective net and illegaly board the Shonan Maru No. 2. credit ICR
TOKYO, Japan --
In another strange twist to the on-going battle between Japanese research whalers and the Sea Shepherd Conservation Society, activist Peete Bethune boarded the Japanese vessel Shonan Maru 2 in an attempt to make a citizen's arrest of the vessel's captain, and present him with a $3 million bill for the replacement of Sea Shepherd's hi-tech boat Ady Gil.
The Ady Gil, formerly Earthrace, was rammed and extensively damaged by the Shonan Maru 2 last month and later sank.
The text of Japan's Institute of Cetacean Research press release follows:
The Captain of the Shonan Maru No.2, a vessel in the Japanese Antarctic Research Program (JARPA II), gave notice today to the skipper of the former Ady Gil, Mr Peter Bethune, a New Zealand national, that in line with the Japanese Mariners Act he was taking necessary measures and restrained Mr Bethune.
Mr Bethune illegally boarded the Shonan Maru No.2 at 09:00JST February 15 after using a knife to cut the vessel's protection net. At that time, Mr Bethune cut his left thumb and has since received medical treatment from the Japanese crew. The Ady Gil skipper told the crew that, after boarding the Shonan Maru No.2, he had thrown the knife into the sea.
Mr Bethune is being held in custody on board the Shonan Maru No. 2. Besides the protective net tearing there is no damage to the Japanese vessel nor are there any injuries to the crew.