Underwatertimes.com News Service - August 7, 2013 19:51 EST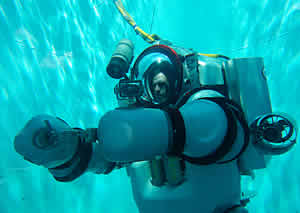 Michael Lombardi recently became among the first to train in the new deep diving system called the Exosuit.
PROVIDENCE, Rhode Island --
Ocean Opportunity, a Rhode Island based not for profit organization, is pleased to announce that its founder, Rhode Island native Michael Lombardi recently became among the first to train in the new deep diving system called the Exosuit.
The Exosuit is the next generation Atmospheric Diving System (ADS) designed and constructed by Dr. Phil Nuytten and Nutco Research Ltd in Vancouver, Canada. The Exosuit keeps the pilot at surface pressure, therefore eliminating the physiological hazards associated with deep diving. The first production system was purchased and recently accepted by the JF White Contracting Company of Framingham, Massachusetts. JF White is a recognized leader in unique technology applications for underwater problem solving.
Lombardi participated in the weeklong training program at the invitation of JF White's Diving Division, and recently commented "I am thrilled at the possibilities of this new found collaboration. Merging mutual interests in ocean exploration between industry, academia, and the private sector has been a formula at work â€" and putting the Exosuit to work for science uncovers an entirely new realm of unexplored ocean space. This could open several lifetimes of new marine science opportunities."
Lombardi is no stranger of the deep â€" his recent work, funded by the National Geographic Society, has taken science to the lower limits of Mesophotic (or 'middle light' ecosystems) to depths exceeding 400 feet with the use of his newly developed underwater habitat. This has resulted in numerous discoveries including a new species of fish, Derilissus lombardii, that is now archived at the American Museum of Natural History. He states, "working in a new frontier exposes tremendous potential for humanity. The fact that we can acquire vast amounts of new knowledge in just minutes of exploration is all the justification we should need to scale-up a renewed human presence in our oceans."
The Exosuit affords dives to 1000 feet by protecting the pilot from the ocean's pressure at depth. Special rotary joint technology allows the pilot to move and articulate to carry out human tasks.
Lombardi has assembled a team of multidisciplinary researchers to develop what will be an early use of the Exosuit for scientific exploration. Collaborators include Dr. Brad Seibel of the University of Rhode Island, Dr. David Gruber of the City University of New York, Dr. John Sparks of the American Museum of Natural History, and Dr. Winslow Burleson of Arizona State University. The group is planning an expedition to use the Exosuit in bluewater â€" the open ocean â€" to observe and document alien marine life in its natural environment at 1000 feet for the first time by human eyes.
The project is seeking sponsors and donors to contribute to making it a success. Michael is chronicling the project via Blog: http://newswatch.nationalgeographic.com/tag/exosuit-project