Underwatertimes.com News Service - July 6, 2009 21:03 EST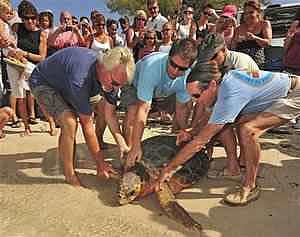 Florida Keys-based Turtle Hospital release "Obama" the loggerhead sea turtle. credit Florida Keys News Bureau, Rob O'Neal
KEY WEST, Florida --
A recovered loggerhead sea turtle named after President Barack Obama was released in the Atlantic Ocean off Key West Saturday.
"Obama" was rescued on Key West's Higgs Beach Jan. 19, the day before President Obama was sworn in as the 44th chief executive of the United States. The 215-pound reptile was nicknamed by its rescuer, Key West resident Tom Favelli, before it was transported up the Florida Keys Overseas Highway to The Turtle Hospital in Marathon.
"The reason we contacted authorities regarding the turtle was the fact that it was floating on the surface and was unable to submerge itself," said Favelli.
The turtle suffered from a severe intestinal impaction that caused a body cavity infection, according to Ryan Butts, administrator of The Turtle Hospital.
"The turtle came in at a historic moment and was named after the new president, so we thought it was appropriate to release 'Obama' to freedom on America's Independence Day," said Butts, of the reptile estimated to be 50 to 60 years old.
About 100 Key West residents and visitors watched as "Obama" was carried from The Turtle Hospital's ambulance to the water's edge on the same beach where it had been rescued.
"We got the turtle down on the sand and it took off," Butts said. "It was so excited and swam away with all the energy it had."