Underwatertimes.com News Service - October 13, 2006 16:38 EST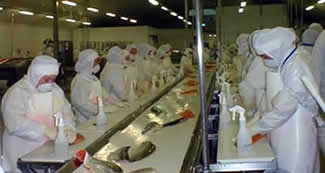 Chilean Salmon Workers in Puerto Montt
SANTIAGO, Chile --
Bartlett Naylor, director of the U.S.'s National Environmental Trust, arrived in Chile this week with a warning for the nation's salmon industry: if U.S. consumers knew about common environmental and labor practices at Chile's salmon farms, the North American market would shrink fast and deeply.
The director of the North American NGO helped launched the Pure Salmon Campaign in Chile with the slogan, "Let's also globalize rights." The campaign is run by Farmed Salmon Exposed, a partnership of over 30 NGOs in the United States, Chile, the United Kingdom, Canada, Scotland, Norway, and Belgium.
The objective of Farmed Salmon Exposed - which has enlisted the support of Chilean NGOs Terram, Oceana, and Ecoceanos - is to pressure the salmon industry into complying with labor and environmental laws and to expand the rights of salmon workers.
The organizations will host a press conference in Santiago this week, a newspaper ad campaign, and a round-table discussion with congressmen and the producer of the award-winning documentary "Ovas de Oro," a film about the salmon farming industry.
Naylor, who has also made personal visits to Chilean government officials, speaks a language the Chilean salmon industry can understand: profit.
In a study on North American consumer preferences, "We found that consumers are not aware that salmon comes from Chile," he said. "When they are informed that salmon production causes labor and environmental problems, they will stop buying salmon."
And there is a lot of profit at stake. During the last eight months the average price of exported salmon increased by 19.5 percent (ST, Oct 10), and exports are expected to reach the US$3 billion mark by 2010, a 43 percent hike over current production levels.
Chilean companies control 38 percent of the international market for farmed salmon, exporting mainly to the U.S. and Japan. With growth in the Russian and Eastern European markets, analysts predict that Chile will soon surpass Norway's position as the world's leading salmon cultivator (ST, Oct 2).
But the list of complaints against the salmon industry is long, including the use of chemicals and parasites, and the low salaries and dangerous working conditions at salmon farms. Chile's government reports that 17 workers have died on the job just since 2005.
As a reminder that the world is paying attention, Naylor relayed a message from a union of truck drivers who deliver salmon to North American supermarkets: "They send a message of solidarity to their counterparts in Chile because they are not willing to tolerate injustices or abuse."
But there's also good news for the salmon executives. "Consumers responded that they would be willing to pay extra for the product," he said, if the industry cleans up its act.
Chile's government also has to improve its track record, said Naylor. "One of my conclusions is that agencies in charge of applying and enforcing the law are uncoordinated," he said, an observation backed up by Labor Minister Patricia Silva.
The campaign against questionable practices in Chile's salmon industry is also being fought on other fronts. While Naylor is in Chile meeting with national legislators, Terram Executive Director Rodrigo Pizarro is touring the U.S. and Canada, with stops at press conferences, seminars, and even the Canadian Parliament.
"This isn't an attack against the salmon industry, or against anyone in particular," said Pizarro. "We are just fighting for a sustainable salmon industry, one that addresses social and environmental demands."
According to the Chilean daily newspaper El Mostrador, Terram has expanded its publicity campaign this week with inserts in national and regional newspapers featuring images of the music group "Chancho en Piedra," and messages about the impact salmon farming has on workers and the oceans.
This message, echoing that of the Pure Salmon Campaign, was broadcast across North American public TV airwaves Thursday with the airing of "The Hidden Costs of Farmed Fish in Chile." The video was presented the same day at the Museo BenjamÌn VicuÒa Mackenna Museum in Santiago.
Video testimonials from industry insiders will be presented around the world all this week, including one of a Chilean union leader discussing the death of his colleagues due to unsafe working conditions.
In another, Alaskan commercial fishermen salmon farmers complain that salmon farmers who kill protected marine mammals are still allowed to sell their products in the United States. Salmon farmers are known to shoot seals and sea lions that enter the open salmon pens in search of a meal.
In protest of these practices, campaign partners in Canada and the U.S. will stage protests outside of supermarkets that sell farmed salmon from Chile, and more than 200 supporters in 50 cities across the United Kingdom will pass out flyers with the message "Go Wild for Real Salmon. Say 'NO' to Farmed Fish."