Underwatertimes.com News Service - March 24, 2011 19:15 EST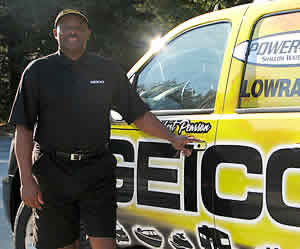 Geico Angler Robert Pearson has 28 rods ready for this week's tournament.
ANDERSON, South Carolina --
Spring has arrived, and for professional fishermen like Robert Pearson, the level of difficulty in finding and catching fish has arrived, too.
The GEICO-sponsored angler fishes this week at Lake Hartwell in South Carolina as part of the Walmart FLW Tour. And because the seasonal calendar has turned to spring, conditions have changed.
"It's going to be exciting because it's springtime," Pearson said of this weekend's tournament. "We're excited, the fish are excited. They don't know what to do, and we don't know how to catch them yet."
Pearson, of course, hopes to quickly figure that out when he launches Thursday morning from Portman Shoals Marina. Three days of practice are sure to help him get off to a good start, but conditions are ever-changing.
"It's going to be a guessing game," Pearson said. "It's supposed to be warm again, so for all we've learned the last three days, some of that you throw out the window. The fish are going to move, for sure. What we're going to have to do is take off Thursday morning and go find them. We'll all be asking, 'Where are those fish?' and none of us will have a clue until we get out there."
Pearson will be uber-prepared for the challenges by carrying 28 rods on his GEICO boat. Normally, he'll have just three or four rods next to him as he fishes.
"On my deck when I take off in the morning, I'll have 14 rods, seven on each side," Pearson said. "I don't know what it's going to take, so I've got to be prepared for everything. I'll have 14 on the deck and another 14 in my rod locker. You really don't know until you get out there and test some things and throw some things at them and see what they respond to."
Fishing is often as much art as science, despite the modern technology available to catch fish. That's because fish often don't behave as fisherman would want them to.
"Every day, conditions are changing because the weather is getting better and the water is rising," Pearson said. "The fish don't know what they want to do because it's been cool. We're thinking they're doing one thing, and they're showing us something else. They had a full moon on the 18th, so they should've been spawning, but they weren't. The reason why they weren't spawning is because they had a couple of cool nights that cooled the water off, and then it rained. They're confused.
"Now we're supposed to have some 80-degree weather and it should move the fish right back up to spawn. I don't want them to spawn. I want them to stay where they're at and leave matters alone. But they'll probably be spawning."
And that adds to the difficulty of catching them.
But Pearson, 54, is a veteran angler who is ready for the challenge.