Underwatertimes.com News Service - August 30, 2006 18:37 EST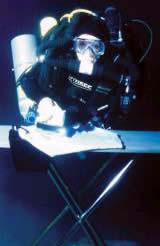 Louise Trewavas irons underwater
LONDON, England --
An Islington scuba diver has broken the extreme ironing underwater world record - for the second time.
Louise Trewavas, 39, who lives in Wallace Road, Canonbury, first set the record in 2003, when she ironed a T-shirt at a depth of 100 metres in the Blue Hole at the Red Sea resort of Dahab in Egypt.
But last month rival diver John Rudolph swam away with the title after managing to iron at 129 metres.
Not one to be outdone, Louise immediately started planning her next big dive and on August 17 she sank to new depths and reclaimed her world record with an outstanding display of ironing at 137 metres.
Despite her success, Louise, whose day job is as a press officer for CEA@Islington, the company which runs the borough's schools, insists extreme underwater ironing is just a bit of fun.
She said: "Extreme ironing is for people who do extreme sports but don't take themselves too seriously. A lot of people who do extreme sports are very serious about it but that's not what it's is about.
"I am more lighthearted about it. I don't want people to be afraid of scuba diving.
"Diving is about having fun, it's not about being a complete nutter."
"You can have fun in six metres and 60 metres. It's what you enjoy doing that's the really important thing."
When she's not competing for extreme underwater ironing titles Louise dedicates her time to saving divers lives.
The Blue Hole, where she set her record, is one of the world's most dangerous dive sites.
It is thought that up to 100 divers died there last year alone.
She said: "A group of us have been working on the Blue Hole project, creating a map of the site so that people know what to expect when they get in the water and don't make any silly mistakes.
"Too many people have died unnecessarily and we hope this will save some lives."