Underwatertimes.com News Service - March 2, 2012 19:39 EST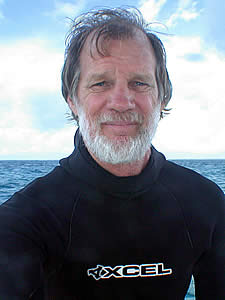 Ken Nedimyer has been named a CNN hero for his work to preserve Florida Keys corals.
FLORIDA KEYS, Florida --
A Florida Keys coral restoration expert has been named a CNN Hero for his pioneering efforts to develop techniques to preserve coral reefs and motivate public support for a cause that attracts environmentally conscious vacationers.
The honor for Ken Nedimyer, founder and president of Key Largo-based Coral Restoration Foundation, was first broadcast on CNN Friday morning.
According to CNN officials, CNN Heroes are everyday people who are changing the world, dedicating their lives to giving back to communities, defending the planet by protecting the environment, helping others overcome obstacles or solving problems in a unique way.
More than 10,000 nominations are made each year from about 100 countries, according to CNN spokesperson Shimrit Sheetrit. About 25 to 30 heroes are profiled, she said, and the top 10 are chosen at the end of the year by CNN's editorial board to appear in a special CNN presentation where each finalist receives a $50,000 grant.
One of the honorees, to be voted by fans across the globe in the fall, is to be dubbed CNN Hero of the Year, and is to garner an additional $250,000 grant.
Gary Yoss, a Wellington, Fla., diver who had seen Nedimyer's coral plantings on Molasses Reef off Key Largo, nominated Nedimyer.
"I had to pinch myself; I'm pretty excited," said Nedimyer, after learning about the honor. "It's a huge endorsement not just for me, but for the foundation, and this really puts us on the radar.
"We can be proud hearing Key Largo and the Florida Keys are taking measures to protect resources here," added Nedimyer, 56, who began coral restoration research efforts about 10 years ago after careers in tropical fish collecting and aquaculture.
The goal of Nedimyer and his small yet impassioned staff of marine scientists is to restore, cultivate and plant staghorn and elkhorn corals, and hopefully reverse their endangered status.
CRF's one-acre coral nursery in the Florida Keys National Marine Sanctuary off Key Largo is possibly the world's largest, Nedimyer said, with nearly 23,000 clippings that range from the length of a knuckle up to 15 inches. The clippings eventually are transplanted to nearby reefs to grow and become independent structures serving as habitat for a variety of tropical fish. The expectation is that the corals will reproduce and create more reef growth on the ocean floor.
"Ours is a message of hope," said Nedimyer, who has leveraged common-sense techniques with scores of volunteers to succeed in an effort that some scientiststhought was impossible. "I'm convinced this is the solution that can work."
Beyond creating scientific solutions, Nedimyer has been successful in developing community and visitor volunteer programs to create a "workforce" for coral restoration. Several times a year coral restoration workshops are conducted at Upper Keys lodging properties that attract visitors who learn about coral reefs and participate in working dives at the coral nursery.
Nedimyer's work is likely to have positive impacts for coral reefs in other tropical destinations.
"We are developing a concept we can take to other countries as well," he said. "We're putting Key Largo and the Keys on the map as a community that got together and did something about it (restoring coral)."