Underwatertimes.com News Service - October 14, 2011 18:39 EST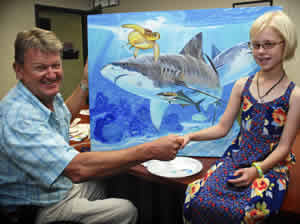 Dr. Guy Harvey and Sophi celebrate completion of "Free Pass". credit Bob Soto
CORAL GABLES, Florida --
Already raising nearly $4,000 for shark research through selling lemonade and shark-shaped cookies at her home in Minnesota, 8-year-old Sophi Bromenshenkel recently joined forces with her hero, celebrated marine wildlife artist and conservationist Guy Harvey, to raise an additional $7,500 for the cause with a few creative strokes of a brush.
Alexandra Junor of Coral Gables purchased the artwork collaboration‹ which Sophi named Free Pass, because a loggerhead turtle shown swimming near the sharks in the painting was left alone. The funds raised from the painting will go to the University of Miami's R.J. Dunlap Conservation Program, which was founded in 2009.
Sophi flew from her home to participate in the South Florida Premier of This is Your Ocean: Sharks, a documentary starring Dr. Harvey, fellow artist Wyland and diver and underwater photographer Jim Abernathy. The South Florida Premier was held October 13th at the Bill Cosford Cinema on campus at the University of Miami.
Directed by Emmy award-winning producer George C. Schellenger, the film will be shown again in Broward County, Florida on October 20th at the Nova Southeastern University's Miniaci Theatre. The 44-minute documentary depicts sharks in their environment capturing both adventure and passion and providing the audience with face-to-face realism never shown before on film.
Dr. Harvey, a highly active and passionate conservationist, has through his foundation, The Guy Harvey Ocean Foundation, www.guyharveyoceanfoundation.org, and through support of research groups such as Miami's R.J. Dunlap Conservation Program and the Guy Harvey Research Institute at Nova Southeastern University, embraced the protection and conservation of many endangered species, including sharks, bluefin tuna, Nassau grouper, sea turtles and marlin.