Underwatertimes.com News Service - June 1, 2010 21:48 EST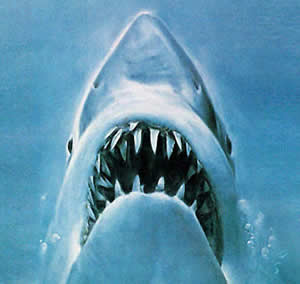 A new TV show, Jaws: The inside story, features exclusive interviews with Steven Spielberg
NEW YORK, New York --
BIO presents "Jaws: The Inside Story," a two-hour special that features an exclusive look at behind-the-scenes stories from those who know them best – the cast and crew. "Jaws: The Inside Story" premieres Wednesday, June 16 at 9PM ET/ 10PM PT.
In the summer of 1975, terror gripped the nation as a 25-foot great white shark captured the world and "Jaws" made sure nobody ever felt safe going into the water again. The film was a huge success, breaking all existing box office records and grossing $470 million dollars worldwide. The film made director Steven Spielberg a superstar, won three Oscars and inspired numerous imitations and countless shark phobias. BIO's two-hour special celebrates this classic, looking back at the movie's origins, the adaptation of an enormous bestseller to the first real "summer blockbuster," and how Spielberg broke new ground in location filming, despite months of setbacks.
"Shooting 'Jaws' was really a living nightmare," says director Steven Spielberg. "I dreamt about it at night, woke up with that sick stomach in the pit of my gut. I felt I was the eye of the hurricane. [I felt] this would be both the worst and greatest experience of my career."
"Jaws: The Inside Story" features new interviews with director Steven Spielberg, actor Richard Dreyfuss, producer Richard Zanuck, screenwriter Carl Gottlieb and many other cast and crew members from the film.
"Jaws: The Inside Story" is produced by Pangolin with Kevin Bachar serving as executive producer. Executive producers for BIO are Robert Sharenow, Peter Tarshis and Tom Moody.