Underwatertimes.com News Service - July 8, 2006 09:24 EST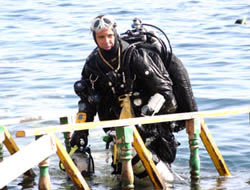 Hungarian scuba diver Gusztav Riczler
DAHAB, Egypt --
Hungarian diver Gusztav Riczler has set a new world record for the deepest unaided scuba dive.
The 37-year-old man set the new mark by diving to a depth of 270 meters near the Egyptian coast of the Red Sea, in the Blue Hole.
Riczler descended to the maximum depth in 14 minutes, and then started the long ascent back to the surface, which required several decompression stops that totaled eight hours.
The diver was equipped with eight oxygen cylinders, which contained gases of different composition to be breathed in at different depths.
The Blue Hole, located a few kilometers north of Dahab, is one of the most dangerous diving spots in the world. Due to a series of tragedies that occurred there, it is often called "a divers' cemetery".