Underwatertimes.com News Service - May 2, 2007 15:55 EST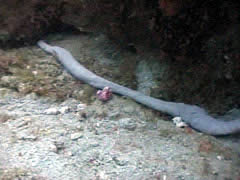 The strange creature. photo by Jay Garbose
WEST PALM BEACH, Florida --
It's not the Loch Ness Monster or the Creature from the Black Lagoon, but a creature recently caught on tape by a Florida diver does have scientists scratching their heads.
Underwater videographer Jay Garbose has worked for National Geographic and The Discovery Channel in the past.
He made his amazing discovery while on a dive on Juno Ledge, near Juno Beach, Florida.
Jay says when he first saw the giant worm like creature he thought it was a sea cucumber...then he realized how big it was.
The creature, which measured between seven and ten feet, has baffled scientists who have seen the video.
Friends of Jay who work at the Smithsonian say it may be some sort of Nemertean Worm, but they're puzzled by some of its characteristics.
For now they're simply calling it "undescribed".
Jay hopes to return to Juno Ledge and find more examples of the worm.