Underwatertimes.com News Service - February 1, 2007 15:22 EST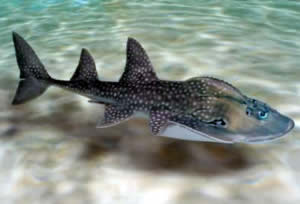 The Newport Aquarium's shark ray is art of a new breeding program
NEWPORT, Kentucky --
Efforts to save threatened aquatic animals will be helped by the Newport Aquarium's acquisition of a rare male Shark Ray. Starting on February 14, the Newport Aquarium in Newport, Ky., will be the first and only location in the Western Hemisphere to display a male and female Shark Ray pair. This new permanent addition makes it possible for a first-of-its-kind international Shark Ray Breeding Program to begin at the Newport Aquarium.
The extremely rare male Shark Ray is currently held in a Newport Aquarium acclimation tank before it will be released into the 385,000-gallon Surrounded by Sharks exhibit where it will join Sweet Pea, the female Shark Ray. In June 2005, Newport Aquarium made history by becoming the first aquarium in the Americas to display a Shark Ray. Sweet Pea was an instant favorite of Aquarium guests and has come to represent all that is still unknown about oceans.
"The Shark Ray, as a species, is a mystery and it faces many challenges. In some ways, you can consider it the 'panda' of the aquatic world," said Mark Dvornak, Newport Aquarium Aquatics Curator. "We are very excited to take these steps forward in marine conservation. Sweet Pea's success over the last two years is a testament to the dedication of the animal husbandry team at the Newport Aquarium."
The introduction of the Shark Ray pair to America is only a first step in Newport Aquarium's conservation work with this species. By working closely with Fred Fan, a highly regarded and visionary fish procurement specialist from Taiwan, Newport Aquarium is initiating the world's first dedicated Shark Ray Breeding Program. This program, a long-time dream of Fan, is becoming a reality due to the professional dedication and conservation vision shared between Newport Aquarium and Fan.
The program itself is long term, with Newport Aquarium and Fan embarking on a multi-year partnership. During this time, individual Shark Rays will be observed, documented and studied. According to Fan, the Shark Ray Breeding Program is very important to aquarium facilities globally because the world's fisheries are depleting the ocean's stocks at a rate faster than they are being replaced.
"I am proud to be associated with Newport Aquarium in this exciting and pioneering program. I firmly believe in the necessity for large scale captive propagation of aquatic species. This program would raise public awareness of this little seen and iconic species as well as further their research and understanding," said Fan.
The public will have a chance to help name the male Shark Ray in the weeks ahead. With a distinct spotted pattern, the male of the species is easily distinguished from the female. Shark Rays are docile, graceful and look prehistoric with horn-like ridges along their head and back. Very little is known about this extremely rare species (Rhina ancylostoma) that receives its common name because of its flat, rounded underside, resembling rays, and shark-like dorsal fins. Shark Rays are listed on the IUCN Red List of Threatened Species because the species is not only rare, but highly desired in Asian markets for human consumption.
Fred Fan Aquatics, Taiwan, specializes in the sustainable supply of aquatic animals. To date at least 98% of all the animals it supplied have been captive raised. It works with aquariums all over the world including the London Aquarium, UK; Osaka Aquarium Kaiyukan, Japan; and the Berlin Zoo, Germany.