Underwatertimes.com News Service - September 21, 2009 20:52 EST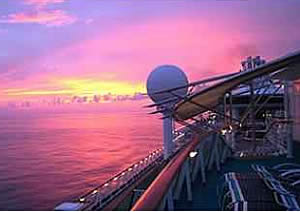 Royal Caribbean's Explorer of the Seas marks the first-ever state-of-the-art marine laboratory aboard a passenger cruise ship. Credit: Liz Williams
MIAMI, Florida --
The Scientific Committee on Oceanic Research (SCOR) and International Association for the Physical Sciences of the Oceans (IAPSO) have teamed up to establish the OceanScope Working Group, a way to bring science and industry together for the systematic study of the oceanic water column.
Representatives from academia, ship owners and operators, naval architecture, government agencies and ocean technology companies gathered in Montreal, Canada last month to begin to develop a plan to systematically collect data that will allow us to better understand the ocean's interior dynamics and its impact on climate. OceanScope's overall objective is to establish a global network of ocean observation platforms on commercial ships.
"While there has been good coverage of the sea surface, we have very limited knowledge of the ocean's interior physical, chemical and biological properties. We really need high-resolution coverage of the oceans from the surface down", said University of Miami Rosenstiel School of Marine and Atmospheric Science Professor Peter Ortner, one of the U.S members of the Working Group and a co-author of the proposal accepted by SCOR.
For the past year Ortner and his colleagues have been retooling the University of Miami, NOAA and Royal Caribbean International's partnership aboard Royal Caribbean's Explorer of the Seas cruise ship, the first-ever state-of-the-art oceanographic and atmospheric laboratory aboard a passenger cruise ship. Launched in 2000, the innovative program has produced a vast data set of atmospheric and oceanographic measurements along the ship's itinerary, and its full automation will serve as a pilot study and test bed for OceanScope.
"Our ability to equip freighters, tankers and cruise ships, which traverse all major oceans on defined schedules will allow us to scan both the surface waters and the water column without having to deploy individual research vessels," said Ortner. "The result will benefit everyone – scientists would be better able to study the water column, including its biomass and other features; the marine industry would be better able to predict future operational conditions; and climatologists would have more complete data to use when investigating the climate and health of the planet."