Underwatertimes.com News Service - April 30, 2008 10:27 EST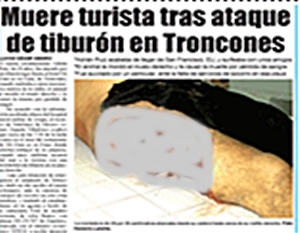 photo shows the large shark attack wound to surfer Adrian Ruiz's leg
ACUPULCO, Mexico --
A San Francisco man died after a shark attacked him while he was surfing off Mexico's southern Pacific coast, authorities in the southern state of Guerrero said Tuesday.
The man was identified by Mexican authorities as Adrian Ruiz, 24, according to a Mexican newspaper Web site, Despertar de la Costa.
Ruiz bled to death on Monday after a tiger shark bit his right thigh, leaving a 15-inch wound, the Guerrero state Public Safety Department said in a statement.
The attack occurred at the Troncones beach, about 45 minutes west by car from the beach resort of Ixtapa.
The statement said the victim suffered wounds "that reached from the hip to the knee, exposing the femur."
Ruiz was still alive when he was brought back to the beach. While an ambulance was called, it took so long to reach Troncones - a relatively isolated, undeveloped beach - that a bystander took the victim to a local naval hospital in his car.
Ruiz, however, died a few minutes after reaching the hospital "due to a loss of blood," according to the statement.
Shark attacks are relatively rare in Mexico.
The newspaper said the shark, estimated to weigh as much as 660 pounds, attacked Ruiz about 325 yards from shore. The paper said Ruiz had just arrived for a vacation with six friends.