Underwatertimes.com News Service - September 7, 2008 19:40 EST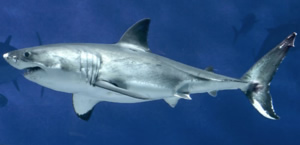 The young shark was on exhibit for only 11 days.
MONTEREY, California --
She was only on exhibit for 11 days and now she's back in the wild.
A young white shark brought to the Monterey Bay Aquarium on August 27 was tagged and released at 1:30 p.m. Pacific time today (Sunday) in offshore waters in the Santa Barbara Channel.
The shark fed only one time during her stay. While she was swimming well in the million-gallon Outer Bay exhibit, the aquarium's animal care staff decided it was best to return her to the ocean now.
"These decisions are always governed by our concern for the health and well-being of these animals under our care," said Jon Hoech, director of husbandry for the aquarium. "On Saturday, it became clear that it was time to release her."
Like the three white sharks that spent between four and six months at the aquarium before their release, the newest shark carries a tracking tag that will document her movements in the wild. The pop-up tag will collect information on where she travels, the depths she dives to and the water temperatures she favors for the first 148 days she's back in the wild. It is scheduled to pop free around late January and deliver those data via satellite.
Monterey Bay Aquarium remains the only aquarium in the world ever to exhibit the ocean's top predator for more than 16 days.
The female shark, collected August 16 in Santa Monica Bay by an aquarium team using a seine net, was 4 ½ feet long and weighed 55 ½ pounds.
Exhibit of this and other white sharks is one part of the aquarium's White Shark Conservation Research Project. Since 2002, the project has aimed to learn more about white sharks in the wild as well as to bring white sharks to Monterey for exhibit. During that time, the aquarium and its research partners have tagged and tracked 18 juvenile white sharks off Southern California.
The aquarium has allocated more than $1 million to white shark field research since 2002, with much of the money supporting the tagging of adult white sharks off the Farallon Islands and Point Año Nuevo. Shark researchers with the Tagging of Pacific Predators, led by Dr. Barbara Block and her colleagues at Stanford University's Hopkins Marine Station, have tracked 143 adult white sharks off the Central Coast using data-collecting tags.
Information from the tags has provided new insights into the far-ranging travels of white sharks in the eastern Pacific, according to Dr. Block, a marine biologist and principal investigator with TOPP.
The aquarium will begin an eighth field season of white shark conservation research next summer. Because of a planned closure and remodeling of the Outer Bay exhibit in fall 2009, it is unlikely to attempt to bring a young shark back to Monterey for exhibit in 2009.
Information about the aquarium's white shark project and shark conservation initiatives, and an archived webcast interview with white shark experts, is available online at www.montereybayaquarium.org/whiteshark/.