Underwatertimes.com News Service - February 25, 2008 13:37 EST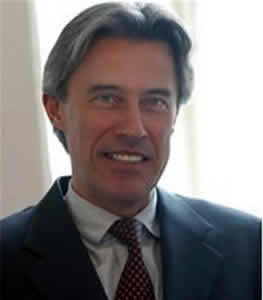 Markus Groh, a lawyer and avid diver from Austria died from a shark bite.
MIAMI, Florida --
The dive operator that ran a shark expedition where a diver was killed by a shark bite had been warned to stop the practice of "dangerous" shark interactions in the islands of the Bahamas.
Neal Watson, president of the Bahamas Dive Association, warned in a letter last year which went to all dive companies operating in the Bahamas, to cease and desist "conducting open-water non-cage shark diving experiences with known species of potentially dangerous sharks, such as tiger sharks, bull sharks, hammerhead sharks, lemon sharks & mako sharks." The letter goes on to say "some dive operators have chosen to disregard standard safe-diving practices as it relates to interactions with tiger sharks and other potentially dangerous species of sharks, in various locations within the waters of The Islands of The Bahamas."
On Sunday, Riviera Beach, Florida-based Jim Abernethy's Scuba Adventures was conducting a dive expedition to interact with tiger and hammerhead sharks in the Bahamas when an Austrian diver, Marcus Groh, was bitten on the leg by what is believed to be a bull shark. A Coast Guard helicopter airlifted Groh, 49, to a Miami hospital where he died hours later as a result of his shark bite injuries.
Abernethy's Scuba Adventures, which specializes in tiger, hammerhead, and lemon shark expeditions in the Bahamas, is not a member of the Bahamas Dive Association.
Though not specifically mentioned in the warning letter, Watson confirmed the letter was specifically targeted at Abernethy's operation, which was viewed as an "accident waiting to happen."
In an interview, Watson said "interactive shark dives have been safely conducted in the Bahamas for over 25 years," with a variety of operators. Historically, these interactive dives have been with Caribbean reef, black tip, and silky sharks, all considered relatively safe for controlled interactions with divers. Watson contrasted these encounters with other operators, namely Abernethy's Scuba Adventures, which specializes in interactions with potentially dangerous man-eating sharks outside the safety of a cage.
Watson said "there's not a shark expert in the world that would put divers in the water, with chum, specifically to attract bull, tiger and hammerhead sharks, without a cage. That's putting people's lives at risk"
Watson said Abernethy's "cowboy" operation "refused to comply" with his cease and desist recommendation.
According to Scuba Adventure's website, "to ensure the best results," the expeditions "chum" the water with fish parts to attract the sharks. Divers then enter the water, without the benefit of a cage. The website states that shark diving is a "potentially dangerous sport and since there can be strong currents, divers should be fairly experienced."
Abernethy's "Captain's Blog" contained this passage from the February 11th- 19th expedition, last trip before the fatal attack: "Last week we figured out a very unique way to capture much better images of the wide open mouth of the tiger shark and this weeks images are quite impressive showing the success. We will be adding this to all of our future trips. It is quite a pleasure for me to constantly improve the way we do things here at JASA from a photographic perspective that allow our repeating guests to constantly come back with better and completely different shots.
I have quite simply been blessed with the most wonderful crew that truly loves their work and are constantly making everything better for everyone here. Without all of them, I would quite honestly not have the success that we do have."
Jim Abernethy's Scuba Adventures did not return our calls for comment.