Underwatertimes.com News Service - September 18, 2008 00:16 EST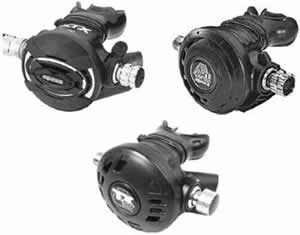 Apeks and TX, ATX, or XTX is printed on the regulator.
WASHINGTON, D.C. --
The U.S. Consumer Product Safety Commission, in cooperation with the firm named below, today announced a voluntary recall of the following consumer product. Consumers should stop using recalled products immediately unless otherwise instructed. (To access color photos of the following recalled products, see CPSC's Web site at www.cpsc.gov.)
Name of product: Apeks Second Stage Scuba Regulators Units: About 25,000 Distributor: Aqua Lung America of Vista, Calif. Manufacturer: Apeks Marine Equipment Ltd., of Blackburn, England
Hazard: These regulators can be missing the diaphragm cover which can cause the diaphragm to become displaced during a dive, allowing water to enter the scuba regulator. This poses a drowning hazard to divers.
Incidents/Injuries: None
Description: This recall involves Apeks TX, ATX, and XTX second stage regulators that have never been serviced. Apeks and TX, ATX, or XTX is printed on the regulator. Sold at: Authorized Apeks dealers nationwide from February 2000 through June 2008 for between $420 and $1,450.
Manufactured in: England
Remedy: Consumers should immediately stop diving with these regulators and visit an authorized Apeks dealer for a free inspection and free installation of a diaphragm cover, if the cover is missing.