Underwatertimes.com News Service - February 17, 2005 12:42 EST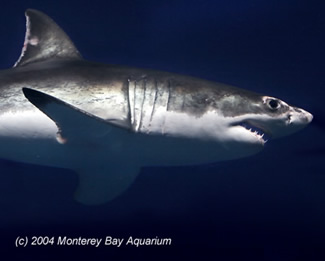 The shark before its damage to its snout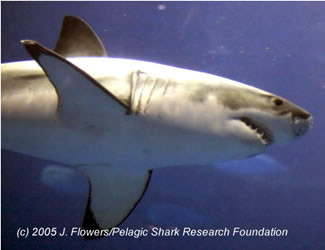 The shark with a damaged snout after months in the tank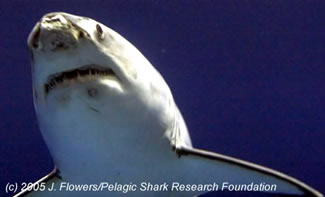 The shark with a damaged snout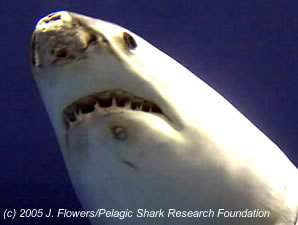 Close-up of the abraded snout, likely damaged from bumping into the sides of the tank
MONTEREY, California --
UnderwaterTimes.com has obtained disturbing photos of the Monterey Bay Aquarium's great white shark that detail shocking damage to the shark's nose. It is clear from the pictures that the shark's nose has been ground down into a blunt end, with an open wound clearly visible. The damage is likely caused from the shark bumping into the sides of the aquarium.
The shark made news earlier in the week when it was reported that it had attacked and killed two other sharks at the aquarium. The great white attacked its first victim -- a soupfin shark -- on Feb. 23, biting a two-foot chunk out of its tail. It struck again on March 7 and left a six-inch gouge in another soupfin. Both died.
"Fish have been ignored as feelingless things," said Sean Van Sommerman, executive director of the Pelagic Shark Research Foundation, which tags great whites off California's coast.
"If you had a zoo display whereby the exhibited animals began to prey upon other exhibited, trapped animals, there would be an ethics question."
The attacks were captured on video, but after reviewing the footage, the aquarium's marine biologists are still not certain what prompted the attacks.
With the release of these pictures, important questions about the future of the shark at the aquarium should be raised. However, the aquarium does not have immediate plans to release the shark back into the wild. Dr. Randy Kochevar, the aquarium's science communications manager, said it is serving an important role in promoting conservation and demystifying the species.
Both Van Sommeran and Phillips noted that attendance, and possibly revenues, have increased at the aquarium since the shark's captivity. Kochevar confirmed that attendance has increased by 30 percent over the past several months.
"We believe that the very best thing we can do for sharks in general, for white sharks in particular, in order to ensure their conservation in the wild, is to bring people face to face with them," he said.