Underwatertimes.com News Service - March 2, 2007 16:53 EST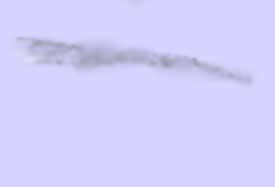 Artist's conception of the monster
WINDERMERE, England --
Sightings of a suspected monster in one of Cumbria's lakes have prompted claims that it could be the English equivalent of Nessie.
The 50ft long "creature" was snapped by photographer Linden Adams, 35, who was out walking with his wife near Windermere recently.
They were at a secluded spot more than 1,000ft up a mountain when they spotted a dark shape moving in the water. "It just came out of the blue," said Mr Adams.
"The water was incredibly peaceful and then this huge thing appeared, diving and thrashing around."
He thought it was 50ft long when compared to boats nearby.
"I snatched the binoculars from my wife and gasped when I got a better look.
"I could see this huge dark thing moving in the water."
He said it had a head like a labrador, only "much, much bigger".
Mr Adams, from Bowness-on-Windermere, said he knew the lake well and what he saw was not a freak wave or boat.
His sighting comes just months after scientists visited Windermere to examine claims by a tourist that they saw a 20ft "serpent-like" creature.
A team of boffins visited the site last October to interview eye-witnesses and sent divers to Coniston Water to investigate reported sightings.
Mr Adams has christened his find the Bowness monster. He sent his picture to a forensic photographer who confirmed it had not been digitally enhanced.
Richard Freeman, of the centre for Fortean Zoology , said the sightings could be giant sterile eels which stay in fresh water and "get bigger and bigger".