Underwatertimes.com News Service - September 24, 2011 18:34 EST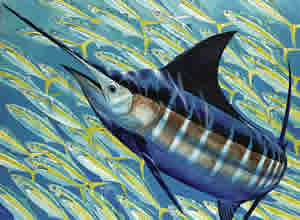 Guy Harvey's "Blue Runner"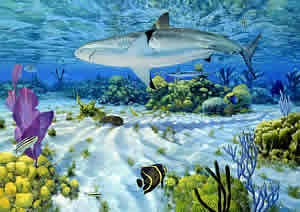 Ian Coleman "Caribbean Reef Shark".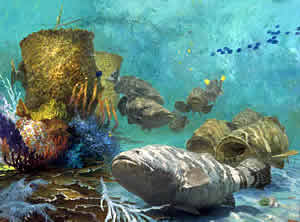 Stanley Meltzoff "Jewfish 6 Sabbath Reef Worship"
DANIA BEACH, Florida --
A group of internationally acclaimed marine artists, including Dr. Guy Harvey, Wyland and sculptor Kent Ullberg, will be among the featured artists in the Art of the Dive/Portraits of the Deep traveling museum exhibition, scheduled to be on display at the IGFA Fishing Hall of Fame & Museum from October 1st to November 30th.
The exhibition, produced by David J. Wagner L.L.C., features work by leading artists who portray underwater life forms and habitat.
The exhibit features original paintings and sculptures and photographs by the world's leading marine painters and sculptors. These begin with New York painter, Stanley Meltzoff (1917-2006), who as curator/author was given his art-of ­the-dive start with a commission from National Geographic Society in the 1960s and who is now generally recognized as the progenitor of the series.
In addition to works from Stanley Meltzoff, Guy Harvey, Wyland and Kent Ullberg, artists and sculptors represented include Charles Allmond, Al Barnes, Renee Bemis, Eric Berg, M.J. Brush, Ian Coleman, Jean-Louis Courteau, John Kobald, Diane Peebles, Randy Puckett, Don Ray, George Schelling, Randall Scotts, Rachelle and Wes Siegrist, Mark Susinno, Fred Thomas and Ronnie Williford.
Mike Myatt, IGFA Chief Operating Officer stated "We are very excited and deeply honored to be the first venue of this truly incredible collection of art. This is definitely a show not to be missed."
For more information, go to http://www.igfa.org/Museum/Art-Exhibits.aspx
--
About Art of the Dive/Portraits of the Deep
The Art of the Dive/Portraits of the Deep is a traveling museum exhibition featuring work by leading artists who portray underwater life forms and habitat. Subjects range from sailfish, marlin and other billfish, to striped bass, bluefish, tarpon, bonefish, snook, bluefin tuna, salmon, dolphin, sharks, as well as whales, sea turtles, rays, corals, crustaceans, mollusks and plants, and the countless array of other life that inhabits freshwater lakes, estuaries, and rivers as well as saltwater.
About the IGFA
The International Game Fish Association (IGFA) is a not-for-profit organization committed to the conservation of game fish and the promotion of responsible, ethical angling practices through science, education, rule-making and record- keeping. IGFA headquarters is housed in the 60,000 sq. ft. IGFA Fishing Hall of Fame & Museum in the Sportman's Park Complex in Dania Beach, Florida. Housed within the Museum are six interactive galleries, the incomparable E.K. Harry Library of Fishes, the Hall of Fame, and a Wetlands Walk featuring live alligators. For more information on IGFA please visit www.igfa.org.