Underwatertimes.com News Service - May 2, 2011 14:26 EST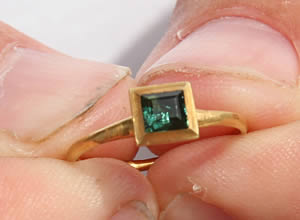 Close up of the high karat gold and emerald ring discovered on the site of the Santa Margarita shipwreck.
KEY WEST, Florida Keys --
Only a few days into launching their 2011 search and recovery season, divers for Keith Webb's Blue Water Ventures of Key West have discovered an elegant gold and emerald ring, along with a gold "flake," a piece of ornate silver, a silver "piece of eight" treasure coin, and numerous pieces of scattered shipwreck material in an area of the Florida Straits where the treasure galleon Santa Margarita was destroyed in 1622.
Joint-venture partners of Mel Fishers Treasures â€" the company who first discovered a rich 23 foot long section of the ships lower hull in 1980 -- the Blue Water team has been exploring a series of widely dispersed artifact trails that resulted from the destruction of the ship. Contemporaneous eyewitness reports from survivors of the disaster described the vessel as having been swept on the crest of a wave over a barrier reef and driven forcefully into a sandbar, where hurricane force wind and waves beat the vessel to pieces.
Describing the moment that crew-diver Sean Hogan emerged from the sea with the centuries old emerald ring, Blue Water Rose Captain Dan Porter said, "I knew by the smile on his face the color the object in his tightly closed fist would be. When Sean opened his hand not only did I see the gold I was expecting, but also a magnificent square cut emerald -- very dark and very clear -- probably about 1.5 to 2 ct. and absolutely beautiful. Sean has been with us about six months and is one of the strongest divers I have ever worked with."
Hogan, who discovered the ring while diving with his leg in a cast, moved to Key West from the Chicago area in 2009 to attend the dive training program at Florida Keys Community College. "When I first spotted the gold I thought it was the link of a chain," he said. Then I pulled it out and saw the dark, dark emerald. It was my first time seeing gold underwater, and when you see it, you just know it."
Archaeologist James Sinclair described the ring as a "wonderful example of the baroque style popular during this period," adding, "while relatively simple and unadorned in design, the use of gold and emerald speaks volumes as to the culture from which the owner and the object originated. Gold, then as now, was a symbol of status, so the owner of this antiquity was a high ranking and wealthy individual."
Discoveries by Webb's team on the Santa Margarita site since 2006 are valued at more than 16 million and include gold artifacts, chains and jewelry, gold bars, rare silver coins, weaponry, pre-Columbian treasures, and a lead box containing 16,184 extremely rare natural pearls.
Research by renowned historian Dr. Eugene Lyon indicates that over 800 ounces of registered gold, 145 silver bars, more than 80,000 silver coins, and potentially multi-millions in contraband and personal jewelry and wealth from the Santa Margarita still remain to be found.
For more information on Blue Water Ventures of Key West and the search for the Santa Margarita, visit www.bwvkw.com.