Underwatertimes.com News Service - May 25, 2006 10:01 EST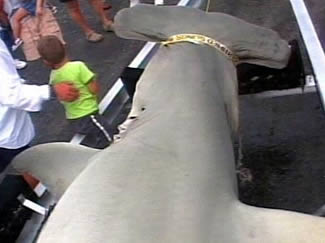 The female great hammerhead was measured at 14.5 feet long and 1,262 pounds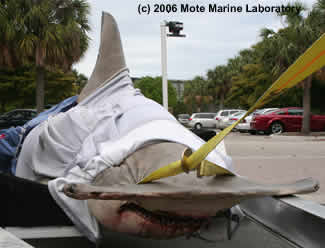 the "hammer" measured over three feet wide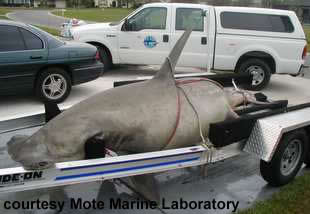 The great beast on a trailer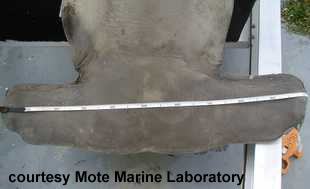 The "hammer" measured over three feet wide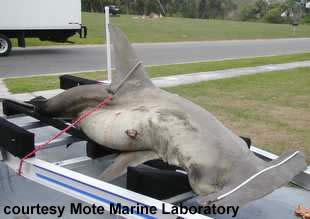 Note the bulging belly of the pregnant shark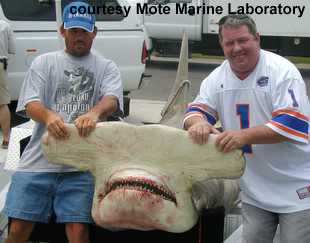 Capt. Bucky Dennis (left) and the great beast
SARASOTA, Florida --
A fisherman from Port Charlotte reeled in a hammerhead shark that was so big, it could be a new world sport fishing record, Mote Marine Laboratory reported Wednesday night.
It took Bucky Dennis of Port Charlotte five hours to land the beheamouth after it towed the fishing boat 12 miles from Boca Grande Pass.
"Because Mote Marine Laboratory didn't have a freezer large enough to preserve the fish, the A.P. Bell Fishouse, 4522 121st St. W., Cortez, agreed to donate space it its freezer." Mote Marine Labs reported. "A.P. Bell also had a scale large enough to weigh the animal and it was taken there for weight and measurements around 6 p.m. Wednesday."
The female great hammerhead was measured at 14.5 feet long and 1,262 pounds, with its hammer measuring more than 3 feet across. She was possibly pregnant.
It's dorsal fin is huge," said Dr. Robert Hueter, director of Mote's Center for Shark Research. "She was very rotund."
Laws allow fishermen to catch and take one shark per day.
Mote said the catch helps draw attention to the status of sharks worldwide.
"We don't encourage the killing of sharks, especially large specimens that help sustain a species. We encourage tagging sharks and releasing them. But we are grateful that this animal has been donated to science. It will help us understand more about these animals," Hueter said.
Shark species, in general, are declining, so everything scientists can learn from individuals animal is important, Hueter said.
"Thanks to this donation," Hueter said, "we hope to be able to teach even more people about the
status of sharks and their importance to the world's oceans, and how to protect and save these animals."