Underwatertimes.com News Service - May 29, 2007 14:42 EST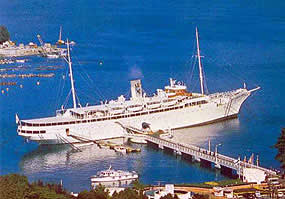 Stella Polaris at her present location, as a floating hotel in Japan. (Picture courtesy of Anders Bergström)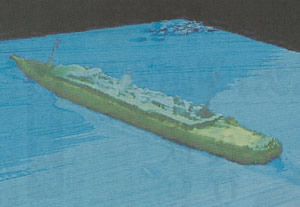 Sidescan sonar image of the Stella Polaris. image courtesy of Aquatec Innerspace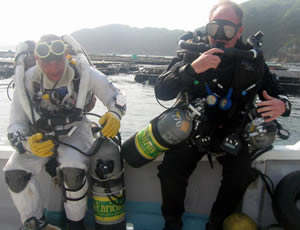 Divers preparing for the Stella Polaris expedition.
KUSHIMOTO, Japan --
For the first time ever, an international team of divers from Austria, Britain, and Japan touched down on the shipwrecked Scandinavian passenger liner Stella Polaris. The world famous ship sunk last year off the coast of Kushimoto, Japan.
With the help of Captain Shimano from the Nanki Seamans Club dive centre, Mrs. Namikawa as surface support, and the Japanese safety divers Mr. Enamoto and Mr. Tanaka, English media diver Dan Burton, and Austrian deep diver Axel Schoeller, the team reached the wreck at 72 meters underwater.
The dive team used rebreather dive technology and were able to film and take video footage of the wreck.
The dive was very difficult because the wreck lays in the strong Kuroshio Current. In addition, the dive site is in the midst of a busy shipping line. The team reported seeing hammerhead sharks around the wreck site. The divers returned from the deep after what was noted as a very demanding one hour dive.
The divers described the wreck with one mast broken and littered with many lines around the deck. The divers could see the front deck, swimming pool and bridge.
The team gave thanks to all the supporters in Japan and around the world, including sponsors from OTHREE and YASUDA.
The next dive on the Stella Polaris planned for the May 30, 2007.