Underwatertimes.com News Service - June 7, 2007 18:18 EST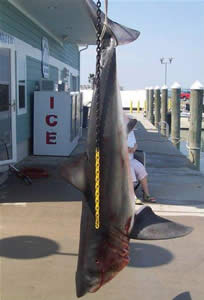 The great white shark seized by state agents
DOVER, Delaware --
A Delaware fisherman could face federal charges after landing what state wildlife officials believe is a great white shark.
Fish and Wildlife enforcement agents on routine patrol Saturday morning boarded a private fishing boat arriving at the North Shore Marina at Indian River Inlet.
Once on board the 33-foot "Little One," owned and captained by Michael Davidson of Frankford, wildlife officers found what they believe to be a juvenile white shark, a species rarely seen in Delaware waters and illegal to possess under federal law.
State officials say the five-and-a-half foot, 179 pound shark was caught about eight miles offshore. It was sent to the National Oceanic and Atmospheric Administration for DNA testing.
If the animal is confirmed as a white shark, Davidson could be prosecuted under federal law for possession of a protected species. Davidson was not carrying a valid permit to fish for highly migratory species such as sharks and tuna in federal waters.
Officials don't think Davidson and his companions landed a great white deliberately, but may have misidentified it as a mako shark.