Underwatertimes.com News Service - April 17, 2006 19:28 EST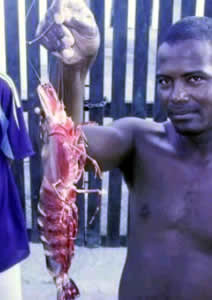 The black tiger shrimp measured 40 centimeters (approx. 15.75 inches)
CARTAGENA, Colombia --
Colombian biologist Edilberto Flechas has bought what he claims to be the largest shrimp ever seen. He bought the massive shrimp from a fisherman for the equivalent of $800.
"This is the biggest species ever known here or even in literature," said Flechas. "The size of this shrimp exceeds the average size. The average length is 21 centimeters and this one is 40 centimeters."
The Black Tiger shrimp is farmed everywhere in Asia, particularly in Thailand. It is not clear how this specimen ended up in Colombian waters.
The Black Tiger dominates the global shrimp market at 56% of the total world shrimp production.
Other main sources of global supply are Ecuador, India, Indonesia, Bangladesh and Vietnam.
Flechas is worried about the implications of the foreign shrimp's invasion of Colombian waters.
"The big difference, which could also be harmful for us, is that this species is a predator and it could end native species," he said.
Although Flechas received a lot of tempting purchase offers for his shrimp, he chose to keep it for further study.