Underwatertimes.com News Service - March 23, 2008 13:11 EST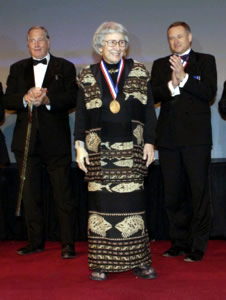 Dr. Eugene Clark flanked by Jim Fowler and David Hempleman-Adams
NEW YORK, New York --
Mote founding director, Dr. Eugenie Clark, received the Explorers Club Medal during the organization's annual dinner at the Waldorf-Astoria in New York City on Saturday, March 15. The award is the highest honor bestowed by the club, an international society dedicated to advancing the scientific exploration of land, sea, air and space by supporting research and education in the physical, natural and biological sciences.
The Explorers Club medal is given to those who have shown extraordinary contributions in exploration, scientific research or the welfare of humanity, said the nonprofit group's spokesman, Jeff Stolzer. About 1,200 people attended the dinner.
Dr. Clark was an obvious choice for the award, said Explorers Club President Daniel A. Bennett. "These medals are given to those who make a lifetime contribution," he said. "This year, our theme was 'Exploring Planet Ocean.' With Genie's knowledge of sharks and her research, she was far and away the most qualified."
Eugenie Clark is an ichthyologist who began her studies on the behavior and reproductive isolating mechanisms of fresh-water aquarium fishes. She later combined her love for diving with the study of marine fishes – first by hard-hat diving and snorkeling, and then using scuba and submersibles. She has studied shark behavior in the deep sea from submersibles at depths of 1,000 to 12,000 feet. She has conducted dives off Grand Cayman, Bermuda, the Bahamas, California, Indonesia, Papua New Guinea, the Red Sea and Japan to study the behavior, movements, and population density of large deep sea fishes and fishes of the sand/coral reef interface.
One recent focus of her research in Papua New Guinea involves the convict fish, Pholidichthys leucotaenia, a little-studied reef dweller. Dr. Clark, 85, and her volunteer dive team spent a combined 5,592 hours underwater studying the fish, finding the cryptic adults for the first time. The adults never leave the tunnels in which they live and their offspring may actually bring food to them – the only such instance known in the wild.
Dr. Clark has a Bachelor of Arts from Hunter College, New York, and received M.A. and Ph.D. degrees from New York University. She also has obtained three Honorary D.Sc. degrees from the University of Massachusetts, the University of Guelph and Long Island University. Dr. Clark is the recipient of three fellowships, four scholarships, seven medals (including the gold medal of the Society of Woman Geographers – an honor rarely bestowed by the organization), and 34 other awards for work in marine biology, conservation, exploration, teaching and writing. She is one of the world's authorities on sharks, and author of more than 170 scientific articles and popular books on sharks and other fishes. She was a professor at the University of Maryland, College Park, in the Department of Biology for 32 years, and is now a Professor Emerita. She currently is a senior research scientist at the Mote Marine Laboratory in Sarasota, Fla., – the lab she started in 1955.
Dr. Clark is perhaps best known as "The Shark Lady" – so nicknamed for the title of her 1969 bestselling book The Lady and the Sharks about her work as a scientist and laboratory director ‑ and today she continues to be an inspiration for both women and men to become marine biologists and scientists.
"I can't believe that I've been given this medal for having such a lifetime of fun diving and studying fish," Clark said.
"Genie has been a mentor and friend to many Mote scientists and to me," said Dr. Kumar Mahadevan, a fellow Explorers Club member and President and CEO of Mote. "We are all very proud of her long-time association with the Laboratory, her scientific accomplishments and especially this honor."
With the honor, Clark joins the ranks of previous Explorers Club Medalists including Robert E. Peary (the first man to explore the North Pole), Thor Heyerdahl (who built and sailed a balsa wood raft from South America to Polynesia), Richard Byrd (Antarctic explorer), Herbert Hoover (U.S. President), Steve Fossett (the first person to fly solo around the world in an airplane without stopping to refuel; recently declared dead after his mysterious disappearance over Nevada in 2007), astronauts Neil Armstrong, Buzz Aldrin and Michael Collins, Jane Goodall (the world's most famous chimpanzee scientist), and famous ocean explorers Bob Ballard (Titanic) and Sylvia Earle (known as "her deepness" for the number of deep dives she has made in submersibles, Earle is also a Mote Marine Laboratory Board member).
Since its inception in 1904, the Explorers Club has served as a meeting point and unifying force for explorers and scientists worldwide. Its headquarters is in New York City. The Club is characterized by the diversity of its members' backgrounds and interests. The seven founding members included two polar explorers, the curator of birds and mammals at The American Museum of Natural History, an archaeologist, a war correspondent and author, a professor of physics and an ethnologist. Today, the membership includes field scientists and explorers from more than 60 countries.