Underwatertimes.com News Service - September 18, 2006 19:39 EST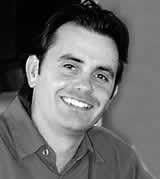 Stephen Broadbelt, chairman of the Cayman Islands Watersports Association
GEORGE TOWN, Cayman Islands --
Responding to revelations in the new bill proposing amendments to the Immigration Law about the rules relating to temporary work permits, Stephen Broadbelt, Chairman of the Cayman Islands Watersports Association, said it could raise difficulties for his industry.
Since Hurricane Ivan, during the transition from a temporary work permit to an annual one work permit holders have not been asked to leave the Island if the new permit was not ready before the temporary one expired.
However, the new bill proposes to revert to pre-Ivan days, although reports suggest that the Immigration's workload is such that it may not be able to ensure the transition from one to the other for all permit applications in a timely manner, forcing staff to leave.
Sectors like the watersports industry employ a high number of overseas workers and have a high turnover of staff, which is why those in the industry believe this may have a negative impact of staffing levels and possible safety.
"This change is going to cause problems, unless they improve their efficiency," said Mr Broadbelt.
However, according to another leading member of the dive industry, a combination of rollover and difficulties recruiting staff is already undermining safety standards on Grand Cayman.
Their concerns grew as some of the most experienced divemasters and boat skippers were either forced to leave the Island or now face expulsion under the seven-year rollover policy.
Based on other information supplied to Cayman Net News, the problem is compounded by the difficulties recruiting suitably qualified staff.
A combination of the high cost of living and low wages is deterring divemasters, instructors and other watersports professionals from taking up employment here.
The situation is now so serious that one dive operation currently has just one qualified instructor.
This particular dive centre started in 2006 with two instructors and although they recruited two additional members of staff both have left after finding their wages failed to cover the cost of living, and with another now gone there is just one person to run the dive shop and supervise the numerous divers using the facility.
A visit to another popular dive operation over a busy weekend also revealed just one member of staff available to deal with any problems or emergencies. In addition reports from within the industry show that one dive operation has recruited and lost no less than five instructors in as many months.
A survey of dive centres on Grand Cayman showed that instructors are being offered starting salaries of around CI$1200 a month with the assistant manager of one dive centre currently getting CI$1350.
Further checks revealed this figure is virtually unchanged from wage levels some five years ago, despite the fact that rent and other basic living expenses have substantially increased.
Employers also promise extra income from tips and commissions but again the amounts being realised are reported to be minimal in comparison to living costs.
One instructor who asked not to be named said salaries here were too low.
"The Cayman Islands are one of the most expensive dive destinations in the world yet the dive operators are unwilling to pay their staff a living wage," he said.
"New instructors are not being properly trained, they come out here and are put straight to work because there are no experienced staff to teach them."
In the past dive centres took new staff through a comprehensive familiarisation programme during which they learned the dive sites and conducted guided dives under supervision.
One source stated, "Now they seem to arrive one day and be running the dive boat the next. This violates the basic principles of customer service and safety, it's an accident waiting to happen.