Underwatertimes.com News Service - August 28, 2008 07:37 EST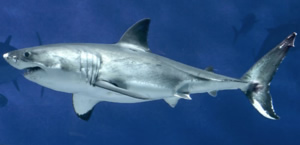 Monterey Bay Aquarium has placed a great white shark on exhibit for the 4th time. credit MBA
MONTEREY, California --
For the fourth time in its history, the Monterey Bay Aquarium has placed a young white shark on public exhibit, bringing her from Malibu to Monterey this afternoon (August 27) – 12 days after she was caught in a seine net off the southern California coast.
Monterey Bay Aquarium remains the only institution in the world to exhibit a white shark for more than 16 days, and has documented the successful return to the wild of each animal kept on exhibit.
As with three other white sharks brought to the aquarium since 2004, the aquarium hopes she'll remain on exhibit for several months, as a way to change public attitudes and promote stronger protection for this magnificent and much-maligned ocean predator.
Because of a planned renovation of the aquarium's Outer Bay Exhibit starting in late 2009, this will likely be the last white shark placed on exhibit until 2011.
The young shark, a 4 ½-foot female weighing 55 ½ pounds, was brought north Wednesday in a 3,000-gallon mobile life support transport vehicle. Caught by aquarium collectors in Santa Monica Bay, she had been held since August 16 in a 4-million-gallon ocean pen off Malibu and was observed swimming comfortably and feeding in the pen several times before she was brought to Monterey.
Four other young white sharks were brought to the pen and ultimately released this summer because they didn't demonstrate the swimming and feeding behavior that made this animal a candidate for exhibit. Six other sharks caught accidentally in commercial fishing gear were tagged and released in the field as part of the aquarium's ongoing White Shark Research Project.
Since 2002, the aquarium and its partners have collected DNA samples, tagged and tracked 18 young sharks in the wild, and – on four occasions – brought a white shark to Monterey for exhibit.
All three sharks previously kept at the aquarium were tagged and tracked after their release. The latest, released in February 2008, traveled to the southern tip of Baja California in 40 days then swam halfway up the Sea of Cortez before its tracking tag popped free in mid-June and the battery on a second stopped reporting in late June.
Nearly four years ago, the first female white shark exhibited in Monterey became "the most powerful emissary for ocean conservation in our history," according to aquarium Executive Director Julie Packard. The shark was part of the aquarium's Outer Bay exhibit for six and a half months and was seen by more than a million people between September 15, 2004 and March 30, 2005. In follow-up surveys, visitors reported coming away with a deeper understanding of the need to protect white sharks and their ocean homes as a result of seeing the shark on exhibit.
Collectively, the three sharks exhibited at the aquarium have been seen by more than two million visitors. Since 2002, the aquarium has allocated more than $1 million toward field studies of adult and juvenile white sharks – research unrelated to the effort to put a white shark on exhibit.
Data from tracking tags placed on adult and juvenile white sharks are providing new insights into the far-ranging travels of white sharks in the eastern Pacific, according to Dr. Barbara Block of Stanford University, a marine biologist and principal investigator with the Tagging of Pacific Predators (TOPP) – one of the aquarium's key research partners. Real-time tag data and published research can be found at www.topp.org.
The aquarium collaborates with the TOPP team and other researchers to tag young white sharks in southern California waters, and to collect DNA samples for analysis of the population structure of white sharks in California and Mexico. Data from young white sharks tagged since the field project began in 2002 have been published in the scientific press, documenting the sharks' use of nearshore waters in California and Mexico as "white shark nurseries."
In the Monterey Bay Aquarium project, exhibiting white sharks has been the subject of a focused multi-year effort. This approach, developed in consultation with a panel of independent shark experts, is designed to minimize the stresses of collection, holding and transport.
Before bringing a white shark to Monterey, members of the aquarium's field team monitor its behavior to see if it has adjusted to swimming in an enclosed space. The team offers salmon, mackerel and other fish, and confirms that the shark is feeding before an attempt is made to bring it to Monterey.
The aquarium's 1.2-million-gallon Outer Bay exhibit was designed for pelagic (open ocean) animals like white sharks. It is home to Galapagos and scalloped hammerhead sharks, as well as large bluefin and yellowfin tuna, barracuda, ocean sunfish and other species.
With the first three white sharks, visitors saw the animals face-to-face, and learned about shark conservation issues in conversations with staff and volunteer guides; through an auditorium program devoted to the white shark project; and through exhibit graphics that specifically address the threats facing white sharks. Similar programs are in place for the new arrival.
"I can't overstate the impact of this single animal on advancing our mission to inspire conservation of the oceans," Packard said of the first white shark the aquarium had on exhibit.
White sharks are in decline worldwide, in part because they're slow to reproduce and because of growing fishing pressure that is decimating all shark species. White sharks are now a protected species in California and other U.S. coastal waters, as well as in South Africa, Australia, Mexico and several other nations. Their fearsome reputation has also made them a target of trophy hunters and the curio trade.
In October 2004, white sharks were granted additional protection by the 166 nations that are parties to the Convention on International Trade in Endangered Species of Flora and Fauna (CITES).