Underwatertimes.com News Service - July 18, 2006 21:53 EST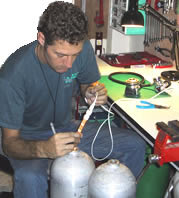 The high price of hydro testing has officials worried
GEORGE TOWN, Cayman Islands --
Dive sector officials are sending mixed signals when it comes to hydro testing of tanks used by their guests at dive centres around Grand Cayman with reports of problems of over pricing and fears of a drop in safety standards.
Several companies and senior officials contacted for comment, however, would only say that things were working well or there was not a major problem to alert the public.
The Cayman Islands does a thriving business when it comes to diving and is in fact one of the leading destinations in the world.
The coral reefs and underwater beauty lure thousands of divers and curious water tourists to the shores of the Islands.
Cayman Net News has been informed by reliable sources that there is infighting among personnel in the sector over the price of having the hydro test done by companies in Cayman.
At issue is the $25 per test being charged by some companies, which seems to annoy their clients who are threatening to take their business overseas, particularly the United States.
The upset clients claimed that the price is too high to pay and could be accessed much cheaper in the US. One has threatened to send over 100 tanks to North America for testing.
Another claimed that a limited number of testing firms are available on the Island and that makes the cost of tests high and finding prompt service can be a nightmare.
While a leading testing station was renovating its buildings many clients complained about the difficulties they experienced during that period.
Hydro test, according to our sources, has to be done on a timely basis if not that would increase the risk of injury to guests if the tanks malfunction underwater.
One other test performed on the tanks is the visual test, which has to be executed on a yearly basis.
Several dive companies told Net News that they perform their own testing but that response has raised eyebrows among officials in the sector.
Some dive sector officials are concerned that there may be a drop in safety standards after Hurricane Ivan wrecked Grand Cayman in September 2004.
Attempts to find an agency monitoring the dive centres to ensure the health and safety of their guests proved futile up to press time.
Several Government departments said they were not responsible and they had no idea if there was a unit in charge of that aspect of the dive sector.