Underwatertimes.com News Service - June 15, 2008 18:45 EST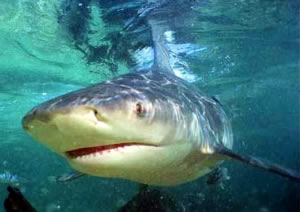 A bull shark. These large and aggressive sharks are suspected in a rash of gruesome attacks recently off a Mexican beach near Acupulco.
SAN DIEGO, California --
The July, 2008, episode of Shark Conspiracies is now available for free download. Shark Conspiracies explores shark sightings and attacks in a new way, by exposing the cover-ups and misinformation sometimes generated from tourism and conservation interests. Shark Conspiracies claims to be both "pro shark" and "pro truth."
The latest episode takes the listener from Florida to Fiji, to North Carolina and Mexico, and from the beaches of Brazil to a coroner's table in San Diego, with a particular theme in the backdrop throughout: Examining the reporting practices and tactics of the International Shark Attack File. The episode also features a gripping interview with surfer Mark Healey, who describes his encounters with Hawaiian tiger sharks in thorough and haunting detail.
The 19 minute podcast is available to listen or to download for free at www.sharkconspiracies.net.