Underwatertimes.com News Service - April 8, 2009 19:05 EST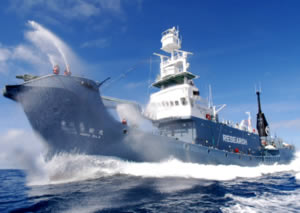 The Japanese Harpoon Vessel Yushin Maru #2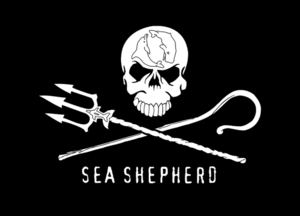 The Sea Shepherd logo
NEW YORK, New York --
Last month, when the Sea Shepherd Conservation Society vessel The Steve Irwin docked in Hobart, Tasmania, it was met by two dozen members of the Australian Federal Police. They were there to confiscate hundreds of hours of videotape, launching an investigation into what was one of the most intense and dramatic campaigns ever conducted by the Sea Shepherds in their 30-year history. It was a life-changing experience for those on the boats and will be an extraordinary television series for audiences when WHALE WARS returns for a new season, premiering on June 5, 2009, at 9PM (ET/PT).
Those seized tapes and hundreds of hours of other footage comprise the second season of Animal Planet's WHALE WARS, the best-performing series in the network's history among adults 25-54 (529,000 viewers) and men 25-54 (309,000 viewers). And Season two looks to be even stronger than its freshman campaign as Animal Planet follows the 10-week voyage that proves to be more dangerous, more drama filled and more controversial than last season.
This year, there were collisions at sea; tense times as The Steve Irwin, with its non-ice worthy hull, was trapped in ice fields; harrowing nautical maneuvers; and use of more aggressive defenses against the Sea Shepherds, including the use of high-powered water cannons and use of Long Range Acoustical Devices (LRADs), sonic devices that cause intense pain and could cause permanent hearing damage. The Japanese whaling fleet suffered a deadly loss as one of its workers slipped and fell overboard (not during an engagement with the Sea Shepherds) and whose body was never recovered. Watson and Sea Shepherd offered to help in a rescue mission for the missing worker, but the whaling vessels claimed they did more to interfere than assist.
"WHALE WARS has proven to be truly compelling television and has engaged our audience with stellar storytelling," notes Marjorie Kaplan, president and general manager of Animal Planet Media. "This series has created a national conversation about conservation, while showcasing a group of deeply passionate people risking their lives for a cause. Our sophomore season shows the intense danger in battling the elements in a harsh environment as well as how perilous it is for these groups to engage each other at sea. Not only are the lives of whales important, but human life is at stake."
"I have always said that we would do everything we can short of hurting people to end illegal whaling in the Antarctic," says Watson. "We have done everything we could with the resources available to us this year. We shut down their illegal operations for over a month in total. We cost them money, and we have saved the lives of a good many whales."
This season on WHALE WARS, in addition to returning crew members Peter Brown (First Officer), Peter Hammarstedt (Second Officer), Chris Aultman (Helicopter Pilot/Aviation Director), Laurens de Groot (Deckhand), Ben Potts (Helicopter Crew) and Shannon Mann (Quartermaster), the Steve Irwin is joined by Jane Taylor (Quartermaster), Luke Van Horn (Communications Officer), Andy Perry (Leading Deckhand), Molly Kendall (Deckhand) and Laura Dakin (Chief Cook). These featured crew members help comprise the 40 international crew who spent the winter putting their lives on the line for whales.
To support the new season of WHALE WARS and engage an active fan base, AnimalPlanet.com will relaunch the series site and add new features including maps, a virtual tour, view and vote, tactics, history of whaling, top 10 moments, meet-the-crew logs and producer behind-the-scenes commentary.