Underwatertimes.com News Service - May 26, 2008 20:11 EST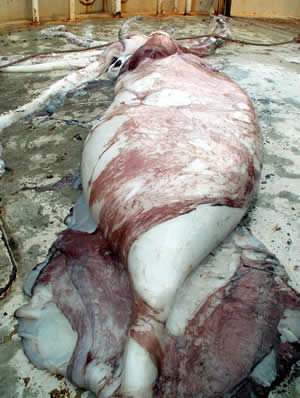 The giant squid was netted by an Australian trawler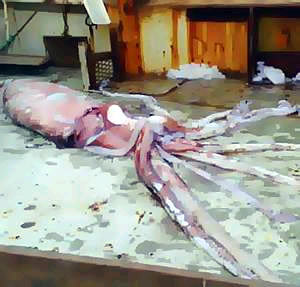 The 500-lb, 20-foot beast on the deck of the trawlergiant squid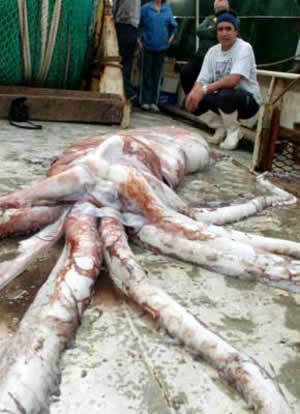 A crew member gazes upon the great beast
VICTORIA, Australia --
Australian fishermen were squids in when they hauled this 20-foot long sea monster from the ocean.
Skipper Rangi Pene said the 500-pound giant squid was already dead when it was caught in the trawler's nets last night off Australia's southeastern coast waters, which plummet to depths of 1,640 feet.
"We caught it about 6 o'clock last night," Pene said.
"We put it on the side of the boat, iced it up and everything.
"The fisheries blokes are coming over to have a look at it.
"We'll take it off the boat and do a freeze-up at [an] unloading dock."
Bert Tober, who owns the boat, said the catch was "pretty unusual".
"It's the first one we've ever caught," he said.
Paul McCoy, a fisheries research biologist, said it took 10 men to lift the squid onto a stretcher and place it in a storage freezer in the city of Portland.
Museum Victoria will collect the creature this week.
Mr McCoy said analysis by the museum would determine the type of squid, its age and possibly how it died.