Underwatertimes.com News Service - February 9, 2010 19:04 EST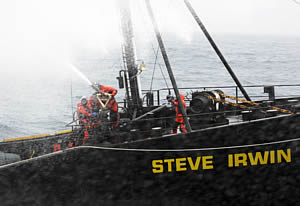 "Steve Irwin activists use a water-leaking centenarian firefighter relic to produce a TV scene." Animal Planet cameraman filming (right). credit ICR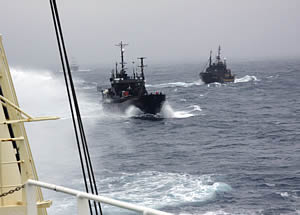 "Cockroach-infested Bob Barker approaches the Nisshin Maru while the Steve Irwin follows". credit ICR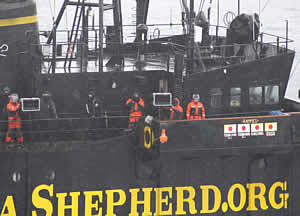 Steve Irwin activists use loudspeakers to broadcast classical music near the Nisshin Maru. credit ICR
TOKYO, Japan --
Over the last day, Japanese research whalers in the Antarctic were subjected to a variety of harassing activities from the Sea Shepherd Conservation Society. With Wagner's "Ride of the Valkyries" blaring from large loudspeakers and water firing from a cannon, Sea Shepherd heralded their approach much like the famous scene from the movie "Apocalypse Now". (Go to http://www.icrwhale.org/gpandsea.htm to watch video.)
The text of Japan's Institute of Cetacean Research press release from the incident follows:
The Japanese Antarctic whale research (JARPA II) vessels were subject today to a water hosing, classical music and green laser display by the Netherlands-registered ship Steve Irwin and the Togolese ship Bob Barker.
At around 15:50 February 9 the Steve Irwin approached to a near-miss (10 meters) distance from the Nisshin Maru while blaring classical music from large loudspeakers and firing a water cannon. The Bob Barker too approached the Nisshin Maru while firing a high-power green laser device. Harassment by both vessels lasted about one hour. There were neither injuries nor damage to the Japanese crews and vessels.
As the Dutch and the Togolese ships continue to follow the Nisshin Maru while performing dangerous antics, Japan's Antarctic whale research vessels will continue giving top priority to safety at sea.
The Institute of Cetacean Research strongly condemns the Sea Shepherd Conservation Society dangerous and violent actions carried out in contempt of the International Whaling Commission consensus criticism and demand for self-restraint and against Japan's whale research vessels and crews who are conducting perfectly legal research activities in the Antarctic.
The Institute of Cetacean Research urges again the Netherlands, the Steve Irwin's flag state, Australia, the de facto home port country to the Steve Irwin, the Togolese Republic, the Bob Barker's flag state, and all other related countries to take every means available to prevent the Sea Shepherd Conservation Society violent actions and strongly requests that these countries observe their international obligations and deal with the Sea Shepherd in a strict and objective manner.
Photographs and video of the incidents in the Antarctic can be seen at: http://www.icrwhale.org/gpandsea.htm