Underwatertimes.com News Service - June 12, 2016 18:28 EST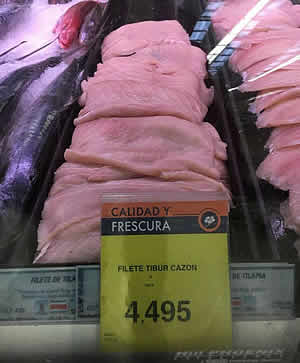 A new study says shark meat sold in Costa Rican supermarkets exceeds U.S. limits for mercury.
SAN JOSE, Costa Rica --
New data from George Mason University has revealed that shark meat sold in San Jose and Heredia food markets contain high levels of toxic mercury. The levels are so high that three shark species tested exceed U.S. federal health guidelines. Advocates are advising consumers, and especially women and children, to not buy shark due to risks to human health.
Researchers Jason R. O'Bryhim, a Ph.D. graduate with George Mason University in Virginia, USA, and Stacey Lance from the University of Georgia Savannah River Ecology Laboratory USA gathered the new data. They collected 170 shark, ray, and fish muscle tissue samples from Costa Rican markets in San Jose (10 pescaderías) and Heredia (5 pescaderías) over a five-day period in September 2014. O'Bryhim and Lance analyzed the amount of total mercury in each sample using standard US Environmental Protection Agency (EPA) approved procedures.
"It is very concerning to find that samples for three shark species tested exceeded U.S. health guidelines," said O'Bryhim. "Silky sharks are a special concern since they account for 70 percent of all the shark sold to the public in those markets and a number of the samples tested exceeded the U.S. health threshold."
"This is yet another reason why Costa Ricans should reduce their annual consumption of 2,000 tons of shark meat, most of which consists of silky shark chops," said Randall Arauz International Policy Director for Turtle Island Restoration Network. He added, "Don't eat shark. Mercury contamination is a known risk to women and children."
Arauz, a Costa Rican who won the prestigious Goldman Environmental Prize in 2010, has been fighting to end shark finning, reduce fishing pressure on sharks, and create marine protected areas. He will be working with an international coalition to increase the protected status of silky sharks this fall during the Convention on International Trade in Endangered Species of Wild Fauna and Flora (CITES) meeting in South Africa.
Species tested include scalloped hammerhead (Sphyrna lewini), silky shark (Carcharhinus falciformis), smooth hammerhead (Sphyrna zygaena), and blacktip shark (Carcharhinus limbatus). Within the markets, total mercury concentrations in the shark products being sold were highest in smooth hammerheads and blacktip sharks, which exceeded U.S. FDA mercury limits of 1.0 ppm for wet weight.
Individual samples of silky sharks and scalloped hammerhead sharks also exceeded the U.S. FDA threshold. A consumer buying these fish will risk consuming potentially high levels of mercury.
Another concern raised by the study is that, within the Costa Rican markets, sharks are not labeled to differentiate species. Therefore consumers cannot choose shark species that might be lower in mercury concentrations. "People buying shark are doing so blindly", warned Maike Heidemeyer of the Costa Rican organization PRETOMA. "For example, a recent study conducted by researcher of the UCR found low mercury levels in coastal shark and ray species, but the degree to which these are being consumed in Costa Rica is unknown.
In contrast, O'Bryhim shows that shark species that in fact end up in Costa Rican markets are loaded with mercury. Therefore, if you don't know what you are buying, the best option for the health of your family is to not buy shark at all.
"We can't wait for the Costa Rican government to take actions to help sharks, there is just no time nor political will," regretted Arauz. "By not eating shark, we can all help protect both public health and the oceans, it's the right thing to do."
Mercury accumulates organically as methylmercury in the human liver, kidney, brain, and blood and can harm a child's developing nervous system even at relatively low levels. Health effects are scientifically well documented and include birth defects, impaired motor skills and other developmental disabilities. Larger, longer-lived, top-of-the-food marine species, like pelagic sharks, have the highest levels of methylmercury in their tissue.