Underwatertimes.com News Service - January 15, 2006 00:00 EST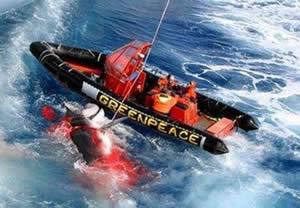 Greenpeace activists sit in their inflatable boat after a harpoon fired from a Japanese whaling ship
SOUTHERN OCEAN, Antarctica --
A Japanese whaling harpoon narrowly missed an inflatable boat carrying environmental protesters, causing one to fall into the freezing sea, as both sides warn their face-off is becoming increasingly dangerous.
The Greenpeace vessel Arctic Sunrise has been shadowing the Japanese whaling fleet for several weeks in an attempt to disrupt Japan's annual whale hunt, prompting a heated exchange on January 8 when the Greenpeace ship and a Japanese ship collided.
In the latest incident on Saturday, the harpoon came within a metre of the inflatable boat as it tried to shield a minke whale, the environmental group said.
The harpoon's trailing line knocked one activist into the sea. He scrambled back aboard the boat without injury.
Greenpeace expedition leader Shane Rattenbury said the whalers were taking more risks to fill their catch in Antarctic waters south of Australia.
"There is definitely an increasing level of tensions down here and the harpooners are certainly starting to take shots that perhaps a week or two weeks ago they would not have taken," Rattenbury told Sky television.
"Yesterday took it to a new level -- we are very concerned about that," he said, adding the incident might force Greenpeace to review its tactics.
But Japan's Institute of Cetacean Research in Tokyo said it was Greenpeace that was taking more risks to remain in the media spotlight.
Institute chief Hiroshi Hatanaka said in a statement Greenpeace put its inflatable boat dangerously close to the bow of the whaling vessel when the harpooner fired.
"Our harpooner had a clear shot and took it. The strike was perfect and the whale was killed instantly," he said.
"The fact that the rope fell onto their inflatable and one of the activists fell into the water is entirely their fault. We are also concerned that they tried to cut the line because it makes it more dangerous for them."
Australia, a strong opponent of Japan's whaling programme, has refused to intervene by sending navy ships to monitor the whaling and protests.
Foreign Minister Alexander Downer said last week Australia sympathised with the protesters, but said they had to make sure their protest was peaceful and did not endanger anyone.