Underwatertimes.com News Service - March 11, 2011 18:50 EST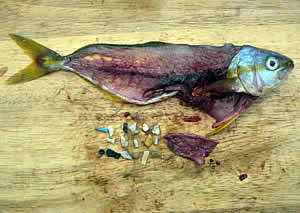 A fish with ingested plastics. credit Algalita Marine Research Foundation.
LONG BEACH, California --
New research unveiled publicly today indicates possible widespread ingestion of plastic by fish in the world's oceans, a finding that could prove troubling to the marine food chain and the world's commercial fisheries.
The Algalita Marine Research Foundation of Long Beach, which discovered what is now known as the "Great Pacific Garbage Patch," found that 35 percent of the fish it tested on a trip to the Pacific had ingested small pieces of plastic that it had mistaken for plankton and other natural food sources. The analyzed fish are considered the "feeder" fish in the ocean food chain, indicating that possibly larger fish and marine life are ingesting plastic by consuming these smaller fish.
"This is alarming both because of how many fish with plastic particles we found, and because of what we don't know. What we don't know is whether plastic -- and the multitude of chemicals within plastic -- remains in the food chain that ultimately ends up on our plates," said Bill Francis, Algalita president. "Our research comes out at a time when more and more scientific studies are indicating bigger problems with plastic and the leaching of toxic chemicals."
The research was unveiled Friday at the kickoff of the Algalita Marine Research Foundation 2011 "Plastics Are Forever International Youth Summit" in Long Beach, Calif. Representing 12 countries, more than 100 selected students and their advisors are being immersed in a comprehensive educational program designed to engage, mentor, and activate these young leaders as they develop and launch action-oriented solutions to reduce plastic waste in their home communities.
During Friday's news conference, Long Beach Vice Mayor Suja Lowenthal called on the world's mayors and community leaders to take aggressive steps to stem the flow of plastic into the environment.
"Sadly, the ocean has become the world's dumping ground and it must stop," Dr. Lowenthal said, adding that Long Beach spends about $2 million a year to clean up the piles of plastic and trash flowing into its harbor and onto beaches after storms. "I am very encouraged by the youth of our world to take action, but we all must take steps. Cities, towns, villages and communities in all countries must contain plastic and keep it from entering our environment. Plastic pollution is harmful to our health and our pocketbooks."
Algalita's latest study is among a body of research being conducted by the Foundation to determine the extent of plastic pollution in the world's oceans.
"The simple fact is this: Tons of plastic are floating in our oceans," said Capt. Charles Moore, Algalita's founder and lead researcher. "It breaks down into smaller pieces and these pieces do not go away. Now, we are finding that these plastic bits are mistaken by fish and bird for food. I wish I could tell you that the outlook for plastic pollution is improving -- but it's not."
Algalita's latest research will be formally presented to a large gathering of scientists at the "Marine Debris Conference" organized by the United Nations and the National Oceanic and Atmospheric Administration (NOAA). The conference will be held March 20-25 in Hawaii.
Also participating in today's news conference were some of the student teams selected to attend the Summit. The winning entries were chosen from among a group of 74 teams representing 18 countries. The Summit's focus is on plastic pollution in the marine environment, but some participating students are also dealing with the negative impacts of plastic pollution on inland animals and wildlife, such as in Kenya and India. The Summit will be broadcast around the world via a live webcast.
The Summit, which concludes Sunday, features a range of experts, led by such notable environmentalists as Wallace "J" Nichols and Ed Begley Jr., giving teenagers more information about plastic pollution as well as skills and training in leadership, public speaking, and communications. Summit programs include "Putting Dreams into Action," "Don't be a Boring Scientist," and how to pitch a project to stakeholders and fund-raisers.
Also attending today's news conference were representatives from the Summit's two major sponsors: The Disney Company "Friends for Change/Project Green" program and Boeing Company. More details about the teams and the Youth Summit can be found at: www.plasticsareforever.org