Underwatertimes.com News Service - June 16, 2011 19:25 EST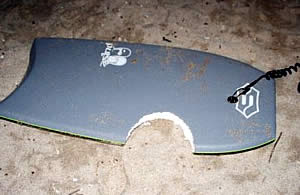 The remains of Reunion Island surfer Eddy Auber's body board after a savage shark attack. credit RLT
SAINT-GILLES, Reunion --
Police officials Thursday confirmed that a surfer has been killed in a savage shark attack off the shores of Saint-Gilles, a tourist area of Reunion, a French island located in the Indian Ocean, east of Madagascar. The attack, the second in a year, occurred when a surfer, Eddy Auber, was about 200 meters from shore at a place call Ti Boucan. Several residents who witnessed the attack said the surfer struggled in the water but no one could help as several sharks were circling the area.
Despite medical help arriving on the scene shortly after the attack, the surfer could not be resuscitated and died from his injuries. "His right arm was severed and one of his legs had been shredded," said the commander of the gendarmerie of Saint Paul, Dominique Paulo. "He had several bite marks on the thigh and hip, and his board was notched about 20 centimeters," said a local resident.
Patrick Commoner, a local resident and surfer who had helped to bring the body to shore, said Auber was already dead when he was brought out of the water.
Witnesses said it appeared that the surfer was attacked by several sharks at the same time.
This is the second serious shark attack off Reunion since the beginning of the year. In February, A surfer lost his leg in a shark attack also off the coast of Saint-Gilles.
Thirty one shark attacks have been recorded on Reunion since 1972, now with 8 being fatal. Before this February, the last attack occurred in March 2010, with the victim getting away with only scratches.