Underwatertimes.com News Service - November 11, 2011 17:35 EST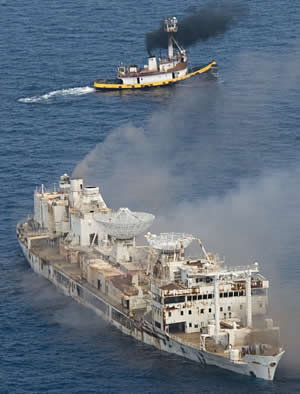 The former missile-tracking ship Gen. Hoyt S. Vandenberg begins to sink after charges are detonated. credit Andy Newman/Florida Keys News Bureau
KEY WEST, Florida --
The Gen. Hoyt S. Vandenberg, an artificial reef located in the Florida Keys, was lauded with a Society of American Travel Writers' Phoenix Award. The honor was announced at the organization's annual convention being staged now in New Zealand.
Created in 1969, the Phoenix Awards recognize conservation, preservation, beautification and environmental accomplishments as they relate to travel. The Vandenberg project was among four North American tourism projects chosen.
"The creation of the Vandenberg Reef is a profound example of how business, environmental and marine biology experts can work together to promote and maintain a valuable infrastructure that attracts tourists from around the world," an unidentified Phoenix committee member wrote in a SATW news release.
A 13-year project in the making, the Vandenberg, a former Army troop transport ship and Air Force missile tracking vessel, was scuttled about seven miles south of Key West May 27, 2009.
The bulk of the $8.6 million funding needed to acquire, clean and sink the ship came from the Monroe County Tourist Development Council, Monroe County, City of Key West, State of Florida, U.S. Maritime Administration and the National Oceanic and Atmospheric Administration.
The Phoenix award for the Vandenberg is not a first for the Keys. Past honors have been conferred on area organizations including Old Town Key West Development, The Turtle Hospital, Crane Point Hammock and the Monroe County Tourist Development Council.
"We are privileged the Vandenberg project has been recognized for its environmental and economic contributions by such an influential group of travel communicators," said tourism council chairperson Rita Irwin. "The award will provide even more awareness for Keys artificial reefs and the value they have in providing a way to preserve our military history, as well as taking dive pressure off natural coral reefs."
A formal Phoenix award presentation is to take place in the Keys at a future date.
The Vandenberg Phoenix award submission was sponsored by North Carolina freelance journalist Lynn Seldon.