Underwatertimes.com News Service - August 5, 2008 12:52 EST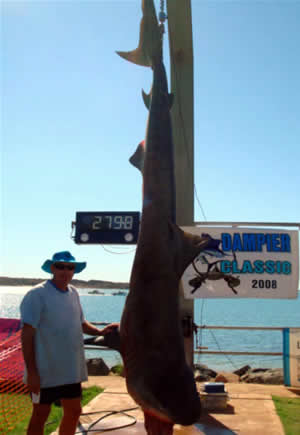 Angler snares huge shark. credit: Dampier Fishing Classic
DAMPIER, Western Australia --
An angler has caught what is believed to be the biggest Tiger Shark ever captured in Western Australian waters.
The 3.6 metre shark weighed nearly 285 kilograms.
It was caught on a 10 kilogram line during the Dampier Classic fishing competition at the weekend.
Organiser Dennis Brian-Smith says the shark will not go to waste.
"There will be lots of scientific data taken from this," he said.
"There will be the liver and so forth will be sent away and examined and and also the stomach contents and methods that they determine the age and so forth of the fish which is fantastic as well."