Underwatertimes.com News Service - October 29, 2008 19:24 EST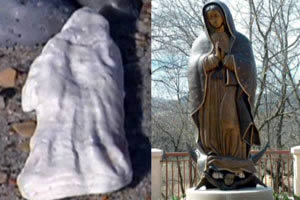 Tom Benedict found the "Virgin Mary" seashell along the Virginia coast
WILMINGTON, Virginia --
UNC Wilmington Senior Tom Benedict was strolling along Wrightsville Beach when he stumbled upon a seemingly sacred sea shell.
"I saw it in the sand, looked down and said, man this really looks like the Virgin Mary. I have to do something with this."
The devout look and the flowing dress seem to draw a striking resemblance to some who saw the shell.
"Originally I thought it was a fish and then when you look at it right side up it looks like the Virgin Mary," said John Poulos, a local fisherman.
Benedict is not very religious, so he hopes to pass the shell along to someone who is, for the right price of course.
"I think I'm going to sell it. I think I'm going to have to, just to see how many people want it and I feel like some people would care about it more than I probably would."
He's already put listed it on e-bay. The bidding opens at $24.99.