Underwatertimes.com News Service - April 20, 2007 15:47 EST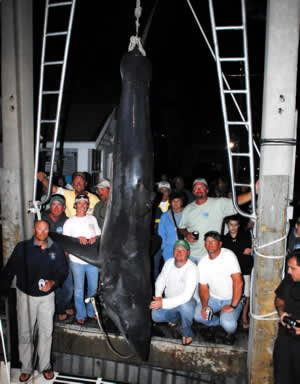 The world record mako shark. Richard's Photos / Destin 850-685-4500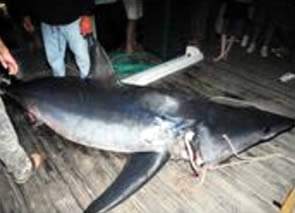 After the shark died, it took eight men to pull it aboard the Mother Lode and take it to Destin. Richard's Photos / Destin
DESTIN, Florida --
A 1,063-pound mako shark hooked close to shore in the Gulf of Mexico is being investigated as a possible world fishing record.
The Sea Ya Later II was cobia fishing when its crew spotted the 12-foot 6-inch shark Wednesday afternoon between Pensacola Beach and Navarre Beach. The Mother Lode, a 45-foot charter boat, helped bring in the shark. They used flying gaffs to secure the fish and then tied the gaffs to the Sea Ya Later II, which was tilting.
``If (the shark) hadn't been as tired as she was, this boat would be sitting on the bottom of the Gulf of Mexico,'' said Lindsey Stanley, the Sea Ya Later IIs captain, told the Northwest Florida Daily News.
After the shark died, it took eight men to pull it aboard the Mother Lode and take it to Destin.
The registered weight of 1,063 pounds makes the catch eligible for the world record in the 30-pound line class for a short-fin mako. The class record is a 997-pound, 11-ounce shark caught in Sidney, Australia, in 1995. The largest mako recorded in the all-tackle division was a 1,221 pounder caught in Massachusetts in 2001.
``I'm investigating it as a world record,'' said Jim Roberson, who represents the Panhandle for the International Game Fish Association.