This is a printer version of an UnderwaterTimes.com article.
To view the article online, visit: http://www.underwatertimes.com/news.php?article_id=98561100372
---
'Float-a-Pet' Collar Uses Newest Technology to Automatically Keep Your Pet from Sinking
March 7, 2007 16:53 EST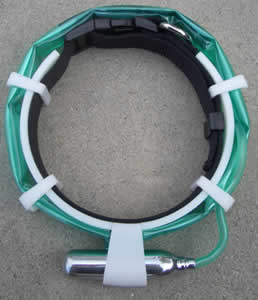 A close-up of the float-a-pet collar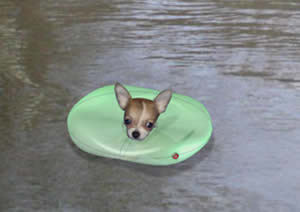 Float-a-Pet is an illuminated inflatable pet collar with smart sensor and locative technology.
PASADENA, California -- Dog lovers often bring their beloved pets with them wherever they go, and this includes long walks in a park to a brisk jog at the beach. Just like people, not all dogs are able to swim by nature, so it would be folly to let your four-legged best friend take to the water without any supervision. This is where the Float-a-Pet comes in, a device that provides a lifeline to hapless pooches that are fighting for their lives when surrounding by nothing else but water. Read on to find out how the device works.
The Float-a-Pet is actually a collar that you slip over the dog's head, and it comes with a couple of support functions to combat any potential hazardous situation in the water. The passive system is used to locate where your pet is at night, using flexible solar cells that surround the collar to soak up the sun's energy during the day, storing excess power in tiny rechargeable batteries. A light sensor will recognize whether the surrounding environment is bright or not, triggering illuminating LEDs to help you locate the pet easier when dusk falls. Secondly, the active system is what keeps your pooch afloat in the water. An integrated CO2 cartridge was designed to break away when the humidity threshold has been breached. A quick burst of CO2 into the collar will inflate it instantly, turning the collar into an impromptu float. This active system goes hand in hand with the passive lighting system and works especially well at night.
Of course, certain parties would argue that if your dog has not yet learnt to swim despite being thrown into the water, it deserves to drown due to the law of natural selection. I personally think otherwise, and this would definitely make a much needed present for your pooch if it comes from a breed that is averse to getting it's paws wet. There is no word on how much the Float-a-Pet costs as at press time, so kindly inquire within the product page for more details.
---