This is a printer version of an UnderwaterTimes.com article.
To view the article online, visit: http://www.underwatertimes.com/news.php?article_id=90361014825
---
French Bodyboarding Champion Missing, Presumed Dead After Shark Attack Off Reunion Island; Fourth Attack In 2011
September 20, 2011 12:19 EST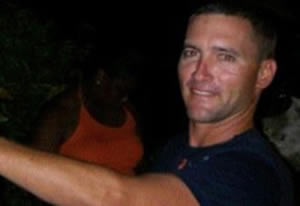 Mathieu Schiller, former bodyboarding champion, was killed by a shark off the island of Reunion.
SAINT-PAUL, Reunion Island -- Mathieu Schiller, age 38, former champion bodyboarder, was reported missing and presumed dead after being attacked by a shark off the island of Reunion. The latest attack is the second deadly shark encounter at Boucan-Canot, a top tourist beach on the island, and fourth overall off Reunion since the beginning of the year.
Schiller, the head of a surf school, was attacked in the mid-afternoon while he was in the water with several other surfers. Local police said a red flag was present at the time of the attack, warning bathers to stay out of the water.
Witnesses to the attack managed to put the victim's body back on his board, but a wave swept it off. "The attack was devastating", said one witness. Shortly after the attack, rescuers searched the area with boats, jet-skis and a helicopter, but the victim was not found. "There is little hope that he is alive", commented one of the authorities on the scene.
The shark attack is the fourth occurrence since the beginning of the year on the island, the second fatal, said the police. Local authorities met after the attack and announced "immediate steps to prevent further tragedies." Authorities announced a ban of water sports within 300 meters of a posted red flag. The local authorities also suggested the removal of all tiger, bull, mako sharks from the area.
---